About Black Desert Online
Black Desert Online (BDO) is an open world action MMORPG with next generation visuals and skilled based combat that will rejuvenate the genre. Black Desert Online has the best and most in-depth character customization feature of any game that is currently on the market which allows for unprecedented detailed character creation. Its intuitive controls, beautifully designed world and extensive lore will excite both newcomers and veterans of MMO games and action RPG's in general.
Black Desert Online will be released in early 2016 and will not be free to play or employ a subscription model. Instead players will buy the game once and can buy vanity items in-game to allow for further customization. Initially the game will be localized in English, French and German. Pricing details will be revealed soon.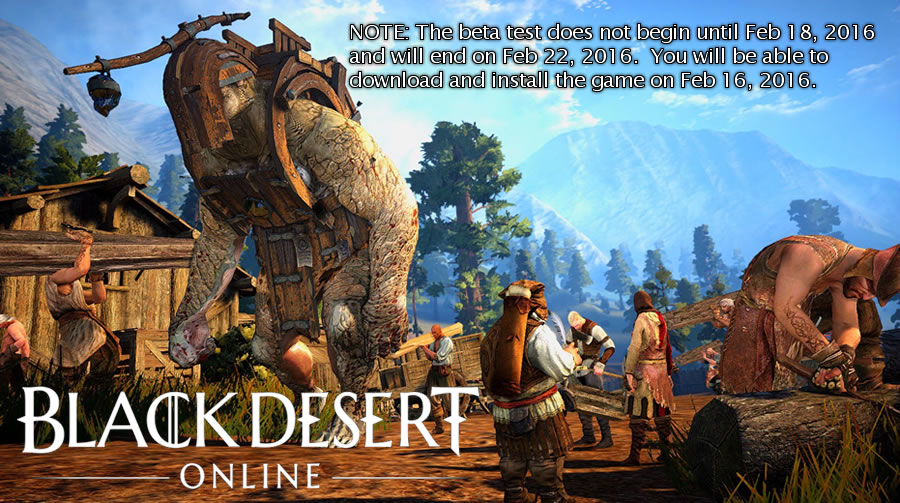 Key Features:
Beautifully designed open world
Beautifully designed open world
Incredible character customization
Crisp next generation graphics
Extensive open world PvP modes (team vs team, guild vs guild and castle siege)
Engaging story and deep lore
Unique farming system - grow and perfect your crops
Catch and breed horses with BDO's taming system
Deep crafting, housing, fishing, hunting and alchemy systems
Minimum System Requirements:
32 bit Windows 7 or 8
Intel Core i3-530 2.9GHz
4gb RAM
GTS 250 / GeForce 9800 GTX / Radeon HD 6770
Recommended System Requirements(For Medium to High graphic settings):
64 bit Windows 7 or 8
Intel Core i5-650 3.2GHz
6gb RAM
GTX 650 / GTX 550ti / Radeon HD7770 / Radeon HD 6770.