Blade & Soul VS Black Desert Online - FEATURES
R4PG Game Store
Date: Dec/22/15 02:41:47
Views: 67
The coming of Blade & Soul (19/01/2016) and Black Desert (Bate) in the western market is like bringing North American and European MMO fans back to the golden era of MMORPG. Blade & Soul and Black Desert will both release in the west in early 2016, and inevitably, a war is coming. The question is: will you play Blade & Soul or Black Desert?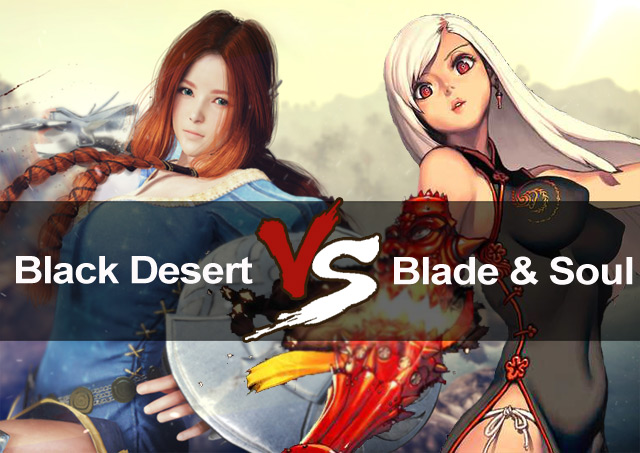 Blade & Soul is a martial arts fantasy MMORPG currently in development by NCsoft and its Team Bloodlust division. The game will have stylized art and character designs by famed artist Hyung-tae Kim, and will feature lush environments and gameplay that borrows elements from fighting games, platformers, and even tosses in a few puzzles. More details to come!
FEATURES
Four Races: The powerful Gon, the ambitious Jin, the beautiful Kun, and the mischievous Lyn.
Eight Classes: But only six have been revealed so far: Assassin, Blade Master, Destroyer, Force Master, Summoner, and the Kung-Fu Master.
Professions: B&S will have a variety of professions for crafting and production, each headed by a specific clan.
Black Desert Online is an up-and-coming MMO in development by Pearl Abyss. It is a sandbox MMORPG that features castle sieging, trading, crafting, player housing, parkour, and more.
Players will enjoy jaw-dropping graphics, intuitive skill-based combat, and and immersive story encased in an expansive world just waiting to be explored. Accompanied by a Black Spirit, a companion whose destiny is intertwined with their own, players will discover the secret of the Black Stones and the history of their corrupting effects.
CLASSES:
Warrior
Ranger
Sorceress
Berserker
Valkyrie
Wizard / Witch
FEATURES
Robust Character Creation Tools: Make the character YOU want to play
Seamless Movement Throughtout the Game World: No loading times other than when entering instances.
Unique Weather and Climate: The weather and climate will have an affect on zones that players can adapt to.
Parkour: Players will be able to run up walls, jump over balconies, and more with the parkour elements.
Action-Based Combat: Take part in action-based combat with skills that can be activated through combos. Without a true healing class, timed dodging and blocking will be key.
Mouse & Keyboard or Gamepad Support
Day / Night Cycle: Gradual progression of lighting effects with some NPCs becoming unavailable as they go home for the night. Various monsters may only appear at night as well. Different content will be included based on the time of day.
Instanced Player Housing: Anything from tents to palaces and everything in between. Players furnish and equip their own homes and can even hire NPCs as traders
Mounted Combat: Mounts are gained through taming and players can breed new and unique types. Mounts will need to be cared for, housed and protected as they can die in combat