R4PG - Differences between DarkFall: New Dawn and Darkfall: Rise of Agon
Currently, regardless of purported changes being made or not made, both versions of the game are functionally the same. Some spells or abilities are tweaked, but the combat, grinding, and everything else, is the exact same (beyond DND not having a bindstone recall to prep for local banking). To get a taste of the game, you can play either option. DND plans to change combat among other things more heavily in the future, while retaining the FPS / Skill based system that the game is based off of. We'll see how that pans out.
Darkfall Online was an MMOFPS RPG by Aventurine
Darkfall Unholy Wars was the sequel to Darkfall Online by Aventurine
Darkfall: Rise of Agon is a project by Big Picture Games who purchased the license for Darkfall Online (https://darkfallriseofagon.com/)
Darkfall: New Dawn is a project by Ub3rgames who purchased the license for Darkfall Online (https://darkfallnewdawn.com/)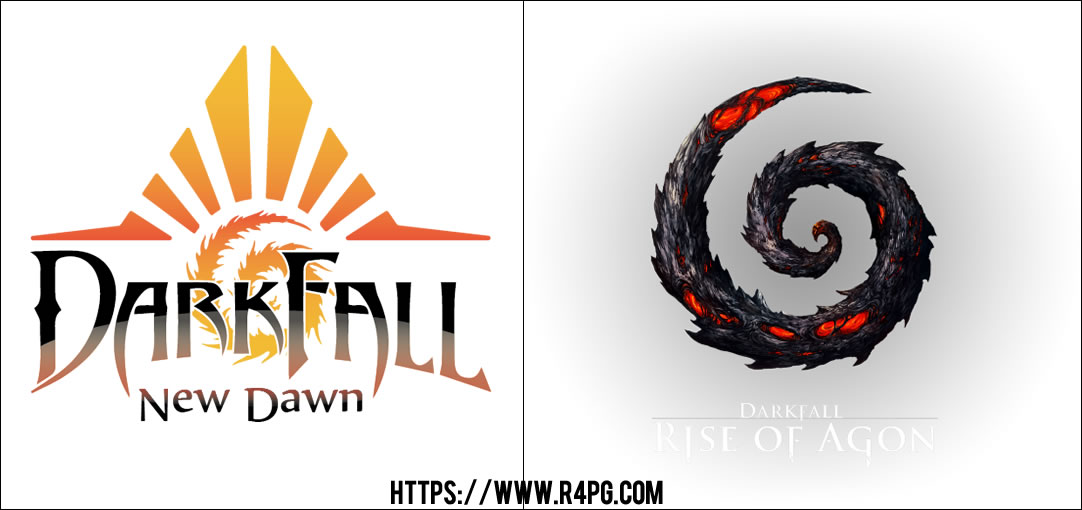 Darkfall: Rise of Agon (Currently NA server): CURRENTLY DOWN, planned to be up soonish Plans to be more faithful to the original DFO, with quality of life changes and bug fixes. Possible new content without infringing on combat balance/meta that had existed. Mostly an effort to modernize DFO and fix the terrible UI, as well as a lot of other barriers to entry for new players such as confusing binds / quest systems. Additions such as making hamlets (mini player cities) more useful with crafting stations to allow small clans to thrive, and etc. Batch looting (to sort bank inventories) has already been implemented. New content may come later, but is not explicitly planned. This is more an effort to fix up what is/was/will be a great game.
Darkfall: New Dawn (currently EU servers): CURRENTLY UP, free period to end August 16th Plans to retain DFO atmosphere and full loot gameplay, but restructure the experience from the ground up and add depth by doing so. The next patch (as posted today by Ub3rgames) will include some travel changes and is the first step towards DND differentiating itself from ROA in a meaningful way. Some planned changes: Local Banking, faster travel on roads, Caravans, Mount skills (like sprinting), and more to be implemented later. They will add more "sand" into the sandbox. Customization and cosmetics like choosing what racial style your village's buildings are, and etc. DND has a focus on racial warfare and wants to organically induce racial pride into its playerbase. Rogues/Bandits will still exist and have plenty of options, but it will be harder. This is a larger-scale development process than RoA and will require much longer to yield fruit. I'm hopeful but wary, though the devs have been making good progress so far.