Fortnite
Fortnite is one of the most popular cooperative sandbox survival game in the world, in this game, all players need to try their best to against monsters and fortify their base for a final triumph! And most of the players would like to play the Battle Royale mode - gamers take on up to 100 other players by themselves, with a partner, or as part of a four-player squad to see who can survive the longest against opponents on an ever-shrinking map. Fortnite building skills and destructible environments combined with intense PvP combat.
Platforms: PlayStation 4, Nintendo Switch, Microsoft Windows, Xbox One, Macintosh operating systems, iOS
Recommended System Requirements:
Nvidia GTX 660 or AMD Radeon HD 7870 equivalent DX11 GPU
2 GByte VRAM
Core i5 2.8 GHz
8 GByte RAM
Windows 7/8/10 64-bit + Mac OSX Sierra (10.13.3+)
Minimum System Requirements:
Intel HD 4000
Core i3 2.4 GHz
4 GByte RAM
Windows 7/8/10 64-bit + Mac OSX Sierra (10.12.6+)
It's easy to forget that this industry-crushing phenomenon is free to play. Therefore, the essential "should you play it?" an argument at the heart of any review isn't asking "is it worth it?" but instead "do you fancy fighting 100 people in a slightly disquieting cartoon world?" For around a third of gamers in their entirety at the moment, the answer's "yes". Despite its junior stylings and mountain of cosmetic items, Fortnite's combat and construction fundamentals are strong enough to sustain weeks and months of play, and as it nears final release, it's only going to get stronger.
Pros
+ Building system adds valuable depth
+ Simple gunplay is immediately fun
+ Combat mechanics feel polished
+ Limited time events
Cons
- There's still a cheating problem
- Junior atmosphere feels jarring
Some Reviews from the Players:
Arvin T. - This game is family friendly and fun. At first, I was hesitant to let my son play this game but now I realize it is completely harmless. The game is a bit complicated but is relatively simple once you get hang of the controls for building and playing. The only reason I say this should be 8 and up is the mild cartoon violence and the difficulty of play. The skills needed to succeed in this game is accuracy, quick thinking, and the ability to accept defeat.
Alan Y. - After spending hours playing in Fortnite's free to play battle royale mode, I realized this cartoonish type game has a very interesting design to it. As you explore this unique map, you can see bright green grass and unique characters from dark knights, angry gingerbread men, and happy elves fighting against each other trying to get to victory royale. While on your way trying to survive, to get to victory royale, you may also encounter lots of old bases from people fighting and lots of loot from people that died.
JumpScareKitty D. - This game relies 's 66% on communication which is extremely difficult to do with someone who is under 16 years of age not to mention the whole game being about killing. Long story short this game simply shouldn't be played by anyone under 16 let alone 8-9 years old as some people are saying.
Ellis H. - Great game for children maybe 9+. There is violence, but it is cartoon violence, and there is no blood or gore involved! There is nothing wrong about it, and is a great game to play. One quick word of advice, though, it is EXTREMELY addictive.
Most of the players would believe that Fortnite is a great sandbox survival game and would have a try, but it's not as easy as you think to play through this game, if you are not a pro gamer, you may need some extra help, such as Boosting, which is really slow to a new player. So R4PG Internet Game is starting the Fortnite service to all players now.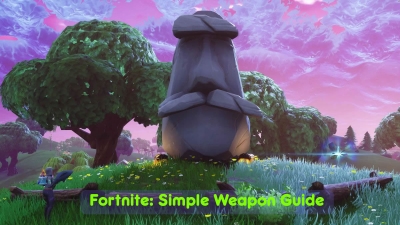 17
Aug
The rich weapons and traps in Fortnite bring great fun to the game, and players can freely combine their favorite equipment, which makes the game's fighting style a variety of ways. Here is a systematic introduction of weapons and traps, very brief but very friendly for the new player.