Malpestory 2 Final Test Application Problems About this Screenshot
I typed it into Google translate and it says "Authentication is not because I can not be with us this final test. In the Profile page, you can modify your certification." Can someone tell me what this is and how to fix it?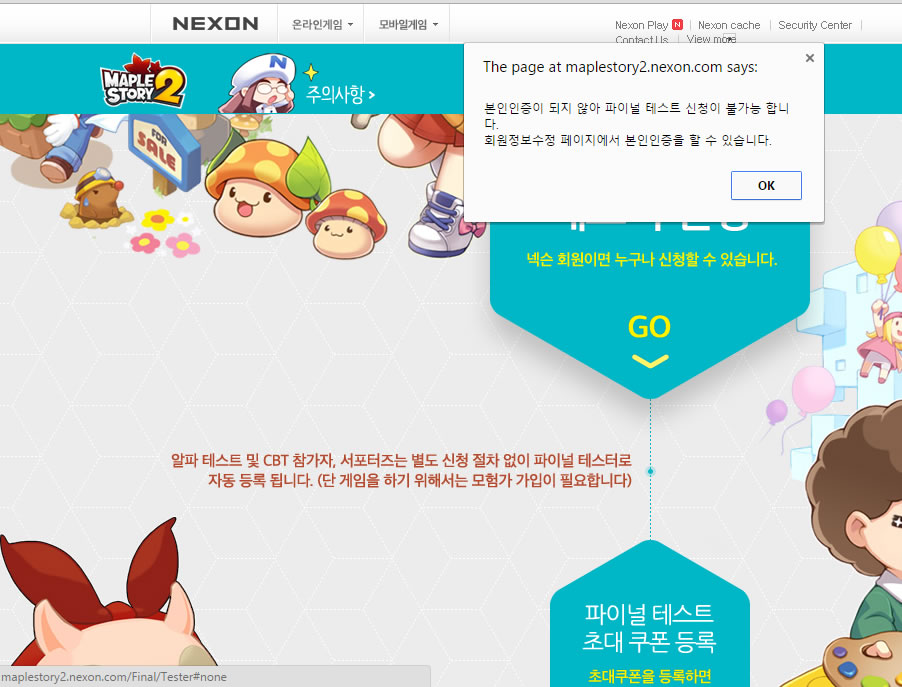 Causes and solutions
They say that, but there doesn't seem to be a reason for that to be true. Over at the Leafre forum there were some people who got into the previous beta using accounts from NewGameWay. All you need to sign up for beta is a verified (through Korean phone number or email linked to K phone#) NexonKR account. The NGW accounts come already verified so there's no reason for them to not work with beta, I used mine to successfully sign up with no issues. If you get in, I'll need to play using a Korean IP address which can easily be had for free from a VPN. If you do go to NGW, make sure you choose the NexonKorea option, not the Maplestory 2 option (I think the latter is for MS1 accounts).
They say this because majority of Nexon's games that go into CBT require you to re-verify your phone number again when you submit an application. Fortunately, MS2 CBT application does not require this - all it requires is having the account verified once.
My need a verified NexonKR account (authenticated through email and phone) to play NexonKR games, including games in beta.
More Maplestory 2 News and Guides, Please attention R4PG.com Maplestory 2 Page (https://www.r4pg.com/maplestory-2)