Why Cadena Is One Of The Best Characters In MapleStory?
R4PG Game Store
Date: Mar/05/18 03:02:47
Views: 5131
Sure we all have our favorite characters in MapleStory, but one of the most popular in our office is Cadena. First of all, she looks cool and her backstory of being a former member of the royal family is really fun. Anyway, we wanted to take a little time to share with you the pros and cons of playing as Cadena in MapleStory and also to let you know that we are still the best place online to.
Pros:
One of the best things about Cadena is the way her skills are AoE. She is excellent for taking down large packs of enemies and not just that, but the more you level her up the more fun she becomes to play as in addition to being much stronger.
Cadena is one of the quicker characters in MapleStory and you can really zoom around a map taking down threats all over the place. If you are playing with other people, you will certainly be a major asset.
Cadena is known for her tremendous Passive Evasion which along with Dark Sight Effect Of Chain Arts can give you a major lifeline when things get a little bit hectic, which when you are playing as Cadena they certainly will.
Cons:
Ok so these are not so much cons as they are anoyances for some players, but playing as Cadena is certainly going to give your fingers a really good workout. She is a character that is very fast and frantic so you will be doing a lot of button mashing to link together attacks, making sure that you are doing as much damage as possible.
Also while Cadena has a really cool and inviting look, she is not the kind of character that is ideal for a player who is new to MapleStory. Also knowing what is the ideal job for you once you start to level up can be rather tough.
Do any of you guys play as Cadena and want to share some tips? Let us know in the comments section. Also if you want to make sure you have all the best gear take advantage of our great deals as we are the best place to buy MapleStory Mesos online.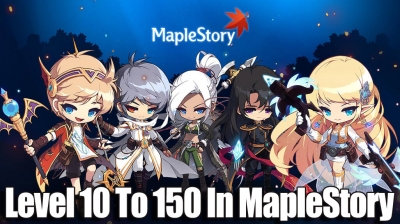 05
Feb
MapleStory is a game that many of us here at R4PG.com have had a lot of fun with and thanks to those of you who come here to buy MapleStory Mesos we were informed of this really cool method for going from level 10 to level 150 and we want to share it with you.