12/25/2019 Christmas Exalt Chaos Prize Winner !
R4PG Game Store
Date: Dec/26/19 03:30:56
Views: 1345
Merry Christmas! Our event has entered its third day! Today we will announce the list of free exalted chaos winners on the 25th! Come see if there is your character name!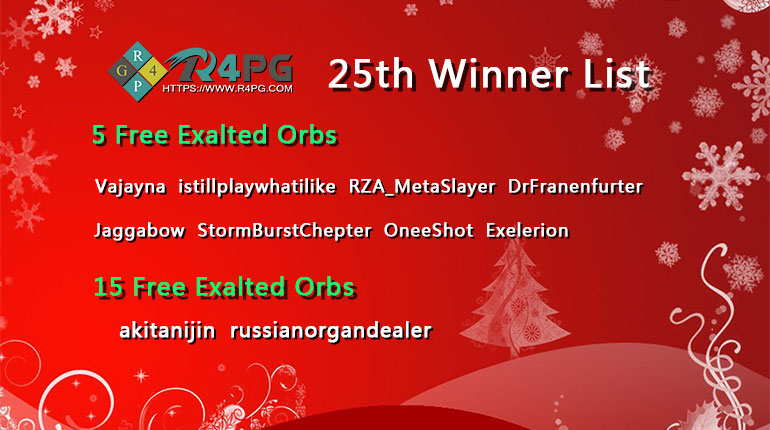 5 Free Exalted Chaos
Vajayna, istillplaywhatilike, RZA_MetaSlayer, DrFranenfurter, Jaggabow, StormBurstChepter, OneeShot, Exelerion
15 Free Exalted Chaos
akitanijin russianorgandealer
Congratulations to the above players! We will sent a email to the winner. Please check it!
It doesn't matter if you don't win! We have 2 days left! If you want to get these prizes too, just buy poe currency on our website and have a chance to get free Exalt Chaos!
Join us: https://www.r4pg.com/path-of-exile/news/merry-christmas--extra-free-chaos-orbs-today
If you have any questions, please contact us:
Skype: gamehelp365
Discord: gamehelper365#6421