POE Betrayal Deadeye Elemental Hit Starter Build - Cheap, High DPS, Endgame
R4PG Game Store
Date: Dec/03/18 03:10:49
Views: 5147
Elemental Hit is an attack skill, executing a basic attack with added damage of a random element. An Elemental Hit may be performed with any weapon. Combat Focus now causes Elemental Hit to deal 50% less damage of the prevented element, including damage that gets converted from the prevented element to a new element.
This build need a low budget, and it will cause an impressive damage. A good choice for novice players.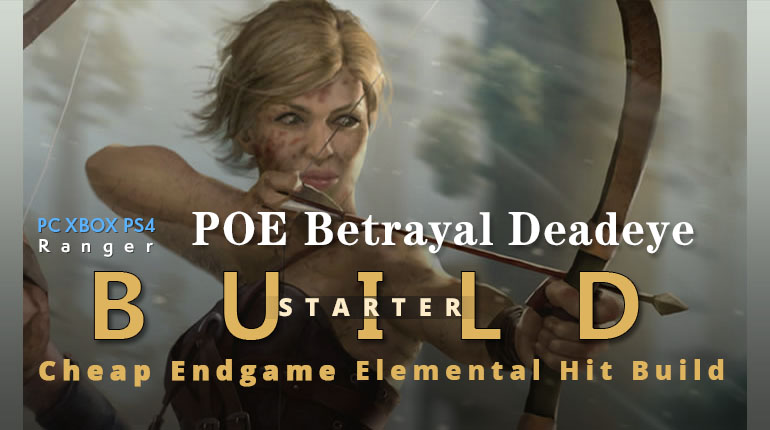 Quick Jump
Skill Tree
Ascendancy
Deadeye: Gathering Winds -> Fast and Deadly -> Far Shot -> Ricochet
Bandits
Help Alira
Pantheon
Major: Arakaali (Unlock Arachnoxia)
Minor: Doesn't really matter
Passive Tree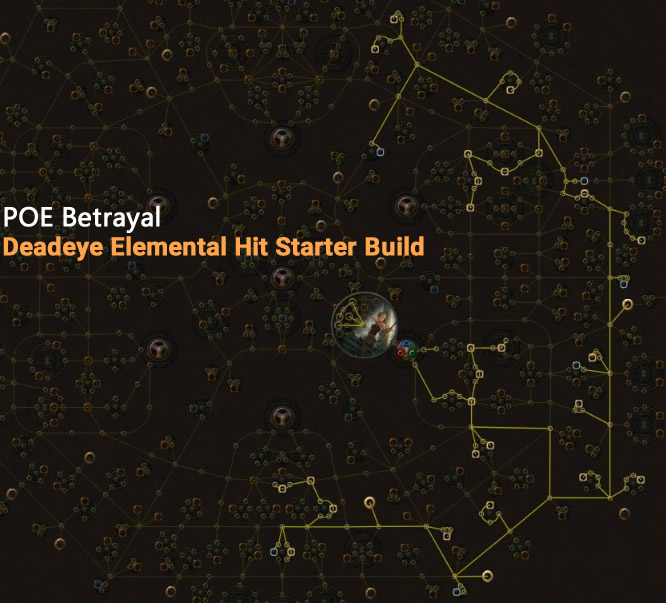 Gems Setup
AoE
Elemental Hit + GMP + Mirage Archer + Combustion + WED + Fire Pen
For AoE: swap Fire Pen with Cold to Fire if you don't use Pyre.
Single Target
5L: Elemental Hit + Combustion + WED + Fire Pen + Slower Proj
6th link: Empower lvl 4 or Faster Attacks or Damage on Full Life
Frostferno 4L: Ele Hit + Combustion + WED + Fire Pen or Damage on Full Life (~12% more dps than Fire Pen if your life is full...)
Auras
- Vaal Haste
- Grace if you're using Queen of the Forest
- You may use Herald of Ash in order to improve AoE clear
Other
- Orb of Storms + Power Charge on Crit + Curse on Hit + Proj Weakness vs. Bosses / Guardians / Shaper OR: gloves with Elemental Weakness on hit corruption (but only if you can manage to get this corruption on a really nice pair of gloves)
- Blink Arrow
- Ice Golem
- Blood Rage
- CWDT + IC
Gear
Required Items
Combat Focus (Crimson Jewel), Combat Focus (Viridian Jewel), Pyre, Call of the Brotherhood
Complete Budget / Starter Gear Setup (< 1 ex)
Chin Sol
Any rare or unique chest
Rare gloves, belt, boots, quiver with life, res, WED, crit multi, accuracy
Pyre
Call of the Brotherhood
Yoke of Suffering
Starkonja
Ele Hit jewel
5L your bow or chest: Ele Hit + GMP + Mirage + Combustion + WED
Switch GMP and Mirage with Slower Projectiles and Faster Attacks vs. Bosses if necessary
Decent Gear Setup
Chin Sol
Loreweave
Frostferno
4L Single Target DPS setup in Frostferno
Rare gloves, belt, boots, quiver with life, res, WED, crit multi, accuracy
Pyre
Call of the Brotherhood
Yoke of Suffering
Starkonja
Ele Hit jewel
5L AoE setup in bow or chest: Ele Hit + GMP + Mirage + Combustion + WED
Lioneye's Fall
Leveling
Without Xoph's Blood, without Soul Raker / Lioneye's Fall
Level 90: www.poeurl.com/bZ63
With Xoph's Blood, without Soul Raker / Lioneye's Fall
Level 82: www.poeurl.com/bZ64
Afterwards: either jewel sockets, Forces of Nature, Revenge of the Hunted
With Xoph's Blood and Soul Raker / Lioneye's Fall
Level 92: www.poeurl.com/bYyq
Final tree (99): www.poeurl.com/bZw6
POB link: https://pastebin.com/Jp5rpZxD