PoE Legion Unqiue and Skills Statistics
R4PG Game Store
Date: Aug/07/19 21:17:34
Views: 1628
PoE 3.7 is about to enter the final stage of the league, are you satisfied with poe 3.7? GGG recently stats a legion player data report, let's look at 3.7 the most popular unqiue and skills!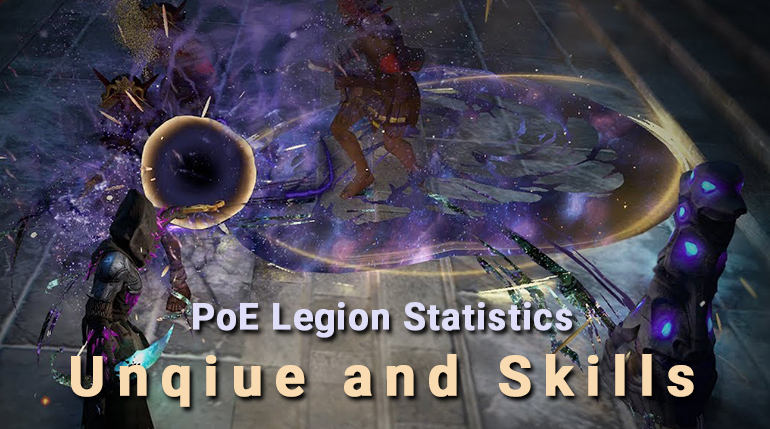 Top 10 Uniques (All levels)
Tabula Rasa
Spreading Rot
Blackheart
Wanderlust
Karui Ward
Wurm's Molt
Goldrim
Warlord's Reach
Belt of the Deceiver
Daresso's Salute
Unsurprisingly, we can see that Tabula Rasa is the most used Unique Item. This is likely a result of its usefulness while leveling as well as being fairly cheap and easy to obtain. Continuing down the list, we can see Spreading Rot, making a showing thanks to the power of Essence Drain and Contagion in Legion encounters. The rest of the uniques here are generic leveling uniques, though quite a few of them are attack-based uniques. Warlord's Reach makes a showing; likely due to it being a quest reward and the high amount of players leveling with attack builds.
Top 10 Uniques - Level 70+
Tabula Rasa
Spreading Rot
Atziri's Promise
Lion's Roar
Daresso's Salute
Warlord's Reach
Belt of the Deceiver
Starkonja's Head
The Overflowing Chalice
Rotgut
As we move into early maps, we see that Tabula Rasa and Spreading Rot hold strong in popularity. If you don't have a Tabula Rasa yet, you can buy cheap PoE Tabula Rasa now. We're not quite at the point where players have the currency to replace a Tabula just yet. Atziri's Promise makes a showing now, likely because it requires level 68 to use and it is an all-around good flask. Lion's Roar jumps into the fray suddenly - but why? It's likely because of the higher cost of the flask relative to most of the unique items we've previously looked at. The two main surprises here are both The Overflowing Chalice and Rotgut.
Top 10 Uniques - Level 90+
Lion's Roar
Spreading Rot
Atziri's Promise
Daresso's Salute
Lethal Pride
Starkonja's Head
Tabula Rasa
Devoto's Devotion
Belt of the Deceiver
Belly of the Beast
As characters reach level 90, we start to see the most used uniques consisting of high power uniques, some of which are unaffordable at lower levels (generally). New top-tens here include Lethal Pride, Devoto's Devotion (because Movement Speed) and Belly of the Beast. Lethal Pride just never has downsides, so its popularity isn't much of a surprise. Belly of the Beast is a fairly affordable body armour that offers great defenses, so seeing it show up just inside the top ten is somewhat expected.
Top Ten Maps by Number Run
Glacier
Alleyways
Burial Chambers
Desert
Arid Lake
Haunted Mansion
Armoury
Ivory Temple
Thicket
Ashen Wood
Top Five White Maps
Glacier
Alleyways
Burial Chambers
Desert
Arid Lake
Top Five Yellow Maps
Atoll
Primordial Pool
Mud Geyser
Spider Forest
Promenade
Top Five Red Maps
Caldera
Acid Caverns
Summit
Lair
Desert Spring
Looking at maps run, we can see Glacier at the top. Thanks to Legion encounters wanting as much open space as possible, Glacier has become a very popular map, especially for players that are focussing on farming Legions as quickly as possible. Alleyways is just behind, likely because of its valuable Divination Card drop; The Saint's Treasure. Burial Chambers still remains fairly popular, thanks to The Doctor and the extremely high value of Headhunter. Of course, you can also choose to buy cheap poe currency to trade these items.
Top Ten Areas by Deaths
Glacier
The Feeding Trough
Azurite Mine
Desert
Alleyways
Ivory Temple
The Chamber of Innocence
The Blood Aqueduct
Burial Chambers
City Square
As for areas with the highest amounts of deaths, Glacier is likely at the top just because of the sheer amount of times it has been run. The boss is fairly straightforward, but Legions are dangerous. Combine dangerous Legion encounters with fairly low-life characters and you've got a recipe for death. Kitava (in The Feeding Trough) continues to claim many victims. The Azurite Mine includes all areas within Delve, and with the ability to push to content that is as difficult as you can handle, it isn't too surprising to see plenty of deaths here.