Ragnarok M: Eternal Love
Ragnarok M: Eternal Love is an upcoming free-to-play 3D mobile MMORPG based heavily on the classic game, Ragnarok Online. The game delivers a more faithful recreation of the original than successors Ragnarok 2 and Ragnarok: Path of Heroes. Most of the content remains intact, including guild PvP, character jobs, costumes, and the game world, and notably features real-time combat. Some of the new content that the game brings to the table is its attractive 3D world that maintains the spirit of the original, as well as a brand new Blacksmith job class.
Ragnarok Mobile Key Features:
Faithful Mobile Adaptation: play a version of RO for mobile that doesn't cut corners on content, developed by fans of the original game.
Ragnarok Online World: relive classic RO, playing the same job classes and exploring the same world updated for modern gaming.
Multiple Job Classes: access a wide variety of job classes from the original game, including branching jobs and a brand new Blacksmith class.
Large-Scale PvP: fight against other players in Guild PvP taking full advantage of the game's real-time combat.
Cosmetic Apparel: collect cosmetic apparel such as animal ears and maid outfits to make your character stand out in a crowd.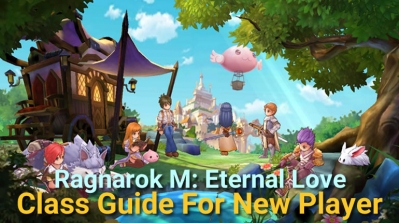 25
Jun
R4PG prepared an introduction to the Ragnarok M class for new players. There are 6 different classes in the game for you to choose from, you can also change them later.