A Fun Story for Trove
R4PG Game Store
Date: Oct/17/16 03:40:32
Views: 284
In the ancient times where gods rule the earth,They play a huge role keeping citizens safe,everything was peaceful everyone was happy.There were no fights no crimes but.....the peace soon came to an end when the demonic nation attacks(yes i know this may sound familiar ;3) Everyone was frighten,there were no day that was peaceful.Every min every hour, fears are conquering their emotions , u can hear people screaming children crying as demons capture their parents/children . Tons of innocent lifes were lost, the gods have no power and can do nothing to help the citizen as the demons have cast a spell where the gods could not use their powers.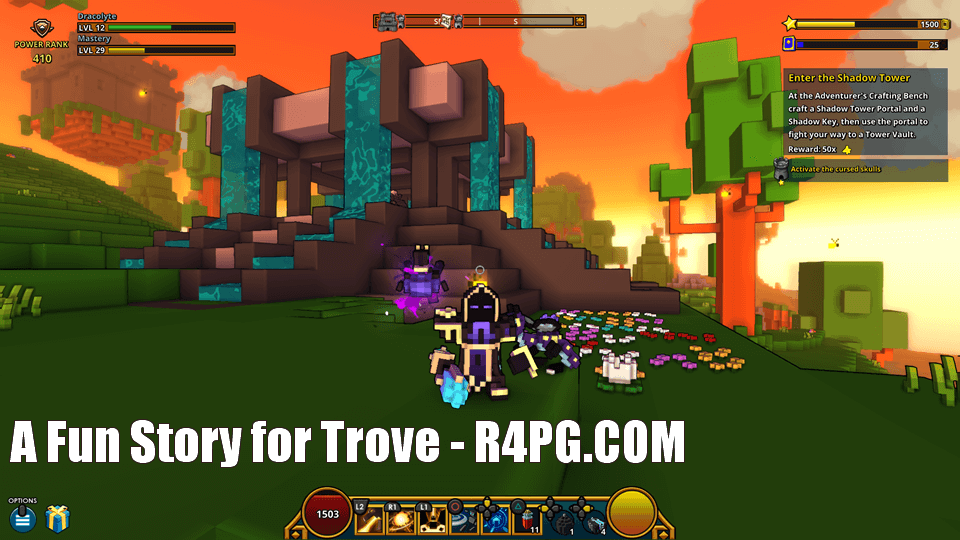 People were crying for help ,praying to gods but nothing came there were no helps no rescue.The world was a mess, there were blood stains/dead bodies everywhere.Soon the moon's daughter also known as DOTM came to rescue, she slayed every demon that she could save every citizen that she could.Everyone was soo happy thinking that she was helping them but little did they know it was part of DOTM plan to capture every single soul in troviana so that she will live forever.
A group of trovians came back from their rescue mission , they were shock that no one was in the city it was seriously empty when they look straight up it was a portal it was dark very dark almost like a blackhole , the chosen trovians spent days preparing their gears , they spent hours and hours of training.One of the trovians , levi, found a book called DOTM arises the book told her how DOTM was form and it weakness.
Soon the the day came, They were prepared on facing DOTM and bring back peace. They held hands,took a deep breathe and went into the portals. It was a very tough journey as they have to face multiple bosses but they perservere they are fighting for freedom and justice. 'HAHAHAHA UR FREEDOM IS GONE, DEMONS WILL NOW RULE THE EARTH. YOUR TOO LATE' said the last mini boss. They charge into the last portal,they were filled with anger and fears but they do not let their emotion control them. 'RELEASE OUR PEOPLE OR BARE THE CONSEQUENCES'.'HAHAHAHHA U CAN TRY TO DEFEAT ME,COME AT ME BRUH' and so they fought , it was a very tought fight.
'NO!NO!!NOOOOO HOW IS THIS POSSIBLE?! I GOT DEFEATED BY A BUNCH OF WIMPS?!U WILL PAY FOR T.....H.....EE.....SE' the chosen trovians quickly relese the capture prisoners.The citizens soon went back to their , the gods were freed from the spell and they took DOTM soul and keep it in a magical jar they then used their power and restore peace to earth.