Too many time walls in Trove?
R4PG Game Store
Date: Oct/10/16 09:49:10
Views: 368
I've recently started playing Trove again, because I wanted to see if the devs have made any changes to the game. As we know Trove is a grinding game and I personaly don't have problem with that. It's just there are too many time walls which can be avoided by paying for some packs. I know most of you will say that it isn't true and everything can be accomplished by simply playing the game and I completely agree but please we all know that's not how it works. Here are a few examples of those so called "time walls".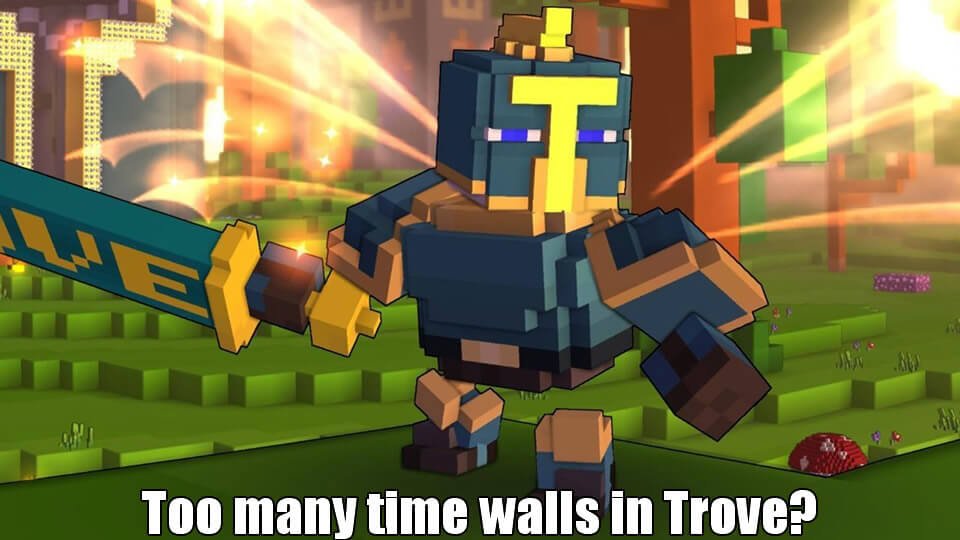 1.) Boosters:
There's no other way to obtain boosters outside of getting them from daily chests, boosters from market or with credits. What's more obsurd is that it's not 100% guaranteed that you get em. Even if you are lucky enough to get some the 12 clovers or 3 horse shoes or even only 1 ladybug. Regular player will get only 500 cubits per day and that equals 1 booster box from which you can only get again some clovers. We all know how important boosters are and without them gems will break. So please bring back a way to buy boosters with cubits or implement another option that will solve this issue. (Don't make it credit-wise, because then there's no solution at all).
2.) Empowered gem boxes.
Same as boosters the empowered gem boxes can only be obtained once a week doing shadow towers. That's not all. You also need power rank 1.2k to actually get empowered gem box from DOTM. Yes I know most of you will say that again you can get them from weekly contests, but imagine things from new player's perspective. There's no way he/she can get more than 1 box per week and that's just not enough. He/she will most likely quit the game, because the progress is just too slow.
And last but not least...
3.) Dragons:
Not as time limited as others but still. Challenges that occur every hour give 1x dragon coin and 4x Lesser Dragon Cache if you complete it fully. As most will dissagree again the real issue stands on the bonuses that dragons give. First of all they give bonus stats to the character as well as some power rank. (not alot but it's something). The biggest issue is magic find bonus. Of course most will say it's not needed but we all know that it is no matter how you look at it.
My solutions to those problems would be:
1.) Boosters should be purchasable for cubits as well as they should be randomly dropped in uber worlds after completing dungeons (clovers only). Also you could implement Clover tome obtained with heart of darkness in shadow tower market. (not titan souls or lunar souls, because again "time wall".)
2.) Empowered gem boxes should be dropped every time you kill Daughter of the Moon. (1 for normal, 2 for hard and 3 for ultra). I cannot think of a better solution at this time so it can feel a little "too rewarding and spammable". You could also remove every other reward from them and just put empowered gems inside. As of class keys and shards go they could be craftable at shadow tower market for 3 lunar souls. (yes another "time wall" but you can at least progress your character even without class gems).
3.) Dragons should be farmable and by that I mean completely remove coins and instead implement a new way like you did with chocolate dragon (except the coins, because they are currently too hard to obtain). You can also make them tradable like they used to be or even include them in higher numbers to challenges. (1 coin per challenge isn't enough. Also good luck getting them from Lesser dragon caches.)
There are alot more issues that I will not state at the moment as they've been stated already and the devs keep ignoring them.
Feel free to express your own opinion on this matter and I hope the devs will at least read this post and offer some solutions. (ps. do not include more ripoff packs in those solutions.)