Trove boss - LETS MAKE HIM HAPPEN
R4PG Game Store
Date: Aug/06/15 05:00:33
Views: 319
Hello dear developers and players. I have a few suggestions that might interest you. Soo as I see you want a new SHADOW TITAN weeeel we can make him real good, imagine something like a dragon... nooo I ain't talking about those silly little dragons we have. I'm talking about something like this http://prntscr.com/7whkqb but in a TROVE way! Or something like a bigger fatter version of the DRACOLYTE dragon but walking on 4 feet and being fatter and stronger with all the features below! You know add the blocks and voila there you have a dragon with a big fat body (showing that he is tanky) with big wings and a nice touch of spilling neon,lava or candy or some purple stuff because you know he is a SHADOW TITAN and the color from his mouth shows how fierce he is ([UPDATE!]Or even better, he can be zone changeable you know his color and what is dripping from his mouth. Sounds like a real nice idea)! You too wanted some SPELLS ideas? Well we have those in store too but lets first start off with his attacks: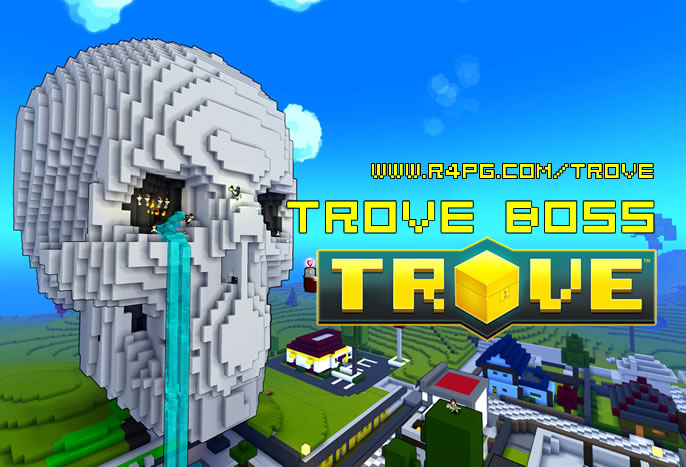 A1. STOMP As I tried to picture him above you know he is a pretty big guy sooo what the name of the attack makes you imagine well yea it's pretty much the same - He Stomps with one of his front feet forward hitting the players underneath the massive AOE of his foot.
A2. TAIL WHIP will be his ability to push and hit those pesky players hiding behing his back to not get damaged by his other abilities or hits.
A3. WING SPAN - this will be the attack in which he uses his wings. The boss will be waving his wings hiting players both infront and behind him.
A4. BULLS RAGE - Will be an attack in which the boss gets enraged maybe a bit bigger and will start jumping arround and stomping players with all his might and all four feet!
A5.We have some pretty big jaws with giant teeth of that thing so lets make them worth it too! We have the common ability BITE with which the boss will throw his head into the fight. He will thrust forward biting the players infront of him in a big AOE dealing severe damage.
Now we need some SPELLS! So let's go forward with them:
As we know we want a big fierce and strong SHADOW TITAN soo we will need a good arsenal of SPELLS for him too -
S1.He is a Shadow beast so we need to give him the touch of shadow: I suggest a SHADOW CHARGE for one of his abilities: He move two or three steps away from the players (as we know he is a big beast 7/8 times bigger than a player atleast those steps will be enough) and stands in one place chaneling for 1/2 sec like a bull with his back foot digging the ground and then charges forward in a SHADOW FORM (taking no damage while charging) and if players don't move away from the charge they take FEARSOME DAMAGE
S2. SHADOW RITUAL - As we know most bosses in TROVE summon some creatures to help them in the fight. Well this big guy can use some help too even as such a fearsome beast. I suggest he flies up going into the same SHADOW FORM (again taking no damage) and starts summoning meteors (any particles) from the sky hitting the ground and summoning smaller versions of himself (no spells casted by them + they can be many with less HP or less with more HP you choose). When they are killed the boss comes down and continues the fight (no regeneration while in SHADOW FORM thou that would be too hard).
S3.Oh come on people we have something spilling from his mouth... you thought we were going to forget this ? Nope we ain't making that mistake! TOXIC/SHADOW/HEAT/CANDY SPILL will be his ability to vomit the stuff from his mouth onto the players poisoning them in various of ways (draining Life/Energy or slowing them down)
S4.I know you all love spikes soo as you see I love the shadow abilities so we have the HOLLOW SPIKES which will be an ability where Spikes cover an area at the beggining they are just a shadowy figure on the ground for 4/5 seconds then they will pop up as real spikes that deal damage.
S5. LEAP Will be the ability of the boss to jump to its next target if he kills the main threat generator. When he lands the leap a explosion will cover the area beneath his feet where he landed.
S6. TITANS FORCE The boss will hit the ground hard making the blocks arround him errupt from the ground and fly in random locations dealing AOE damage.
S7. THICK SKIN Will be his protective ability which will be usable by the boss when he reaches a percentage of HP. When he reaches a specific point of his HP he will cast a shield arround him absorbing some damage making him a bit more of a chalenge!
S8. FLYING DESOLATION Is a spell that the boss will use when he reaches 50% HP he will fly above the ground schorching (vomiting) everything below him dealing severe damage!
s9. DARKEST DREAMS the boss will catch one of you in a cage of darkness which will contain you for about 10-15 seconds not letting you hit or cast any spells.
s10. SHRIEK will be an ability in which the boss shrieks loudly and gives himself a damage boost that will last 15-30 seconds.
ADDED CONTENT!!!
As you know our Titan goes in a shadow form alot and can't be hit soo lets make something interesting out of that! How about when our titan goes in shadow form you all go to his realm (sea of souls) and there you only see his glowing parts - like Eyes, Claws, tail and Spill and a Giant Dark Heart Pounding in his chest and to deal him damage you have to fly trough platforms to hit his heart and deal damage to him that way or if you have a ship with a cannon you can swim in the sea below and you have to hit his heart while drifting into whirls and other stuff trying to kill you! That would be something nice, awesome and new to fighting a boss!