Trove Loot collector/ Deconstruction ideas
R4PG Game Store
Date: Sep/28/15 07:50:04
Views: 367
I tend to grind a lot in Trove with one or two friends or club members, so I always end up having my bag full of stuff --> cornerstone ----> deconstruct.
The deconstruction process hurts my hand more than the actual grinding.
I mean, it's a very basic system, and it gets the job done, but it's extremely boring, and tiring, to go one by one, with a limit of 24, especially if you have more than one bag, which is my case.
This kind of system tends to make me get bored of grinding really fast, since it's a pain to go through that all the time.
Thought about some ideas:
A system that allows you to choose, via tab selection or another similar system, the rarity of the trove item you want transferred into the loot collector (Legendary, relic, respledencent, etc), and by clicking the cliché start or begin button , it would transfer them all to the same from your inventory.
This would be basic for non shadow items, and with Shadow items, the possible selection of the number of *(stars) and it's current level. I just break S1's up to three stars, and I keep 4 and 5* to forge into S2's, and it can be easy sometimes, with so many trove items in the bag, to accidently break good * shadows.
Would make it a lot more simpler, and would reduce the number of clicks from 100+, to 10 at max.
Something like this: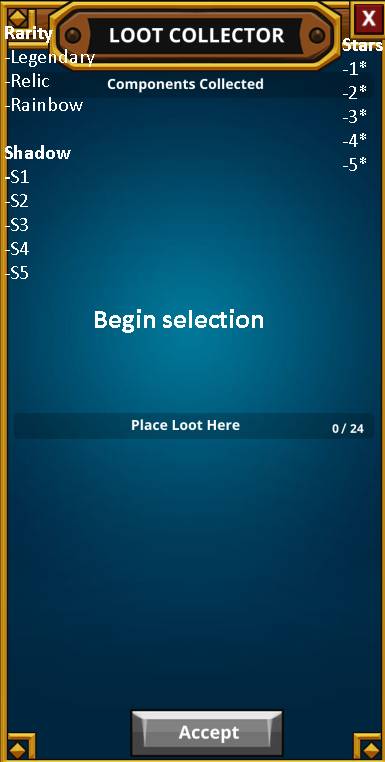 The position of the tabs and the text are on those spots for the sake of example only.
This was just a basic idea that I thought Trove had, but it doesn't.
If anything, if it was from the common MMO system that sells all the "trash" items.
It needs a change eh. Makes no sense a grind game like Trove having such a simplistic, time consuming and boring system.