POE Betrayal Champion Freezing Cyclone Starter Build - Fast Clear, Cheap, Safe
R4PG Game Store
Date: Dec/03/18 19:29:10
Views: 4612
Cyclone is the core skill in this build. Cyclone is an skill that initiates a spinning series of attacks as the player travels to a target location. A combination of Cyclone and other skills will be very popular.
This build is league starter friendly, which has fast clear speed and is pretty safe once you get uber lab. Little investment will bring huge repay. Amazing damage may fascinate you deeply.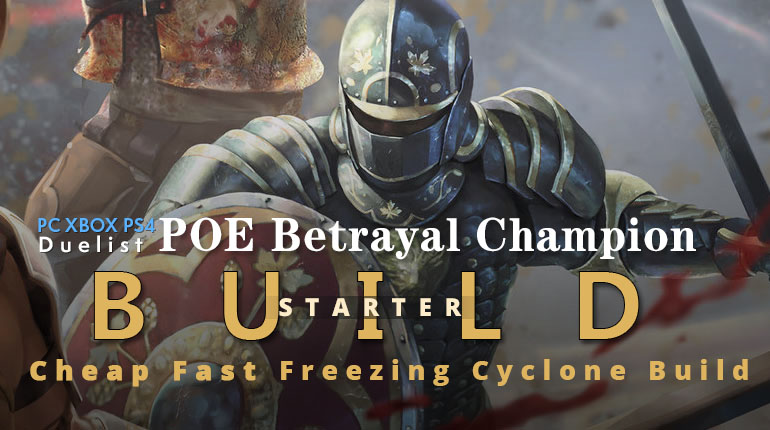 Quick Jump
Pros & Cons
Pros
Cheap cyclone build with decent DPS
League starter friendly
Pretty safe once you get uber lab (fortify, blind, chill, intimidate, endu charges, cannot be stunned, shattering/chaos explosion)
Fast clear speed : +35% MS during warcry + pack explosion with Abyssal cry
Easy coloring (on Bronn or Debeon)
Cons
Low life pool if you are using Bronn 6k max (6k+ could be easily reached with belly)
Res can be hard to cap
You can have hard time until you get your Uber Lab
Can be a pain if you are to lazy to cast warcry every 4s (but it is the purpose of the build)
All sockets used (no space for gem leveling)
Skill Tree
Ascendancy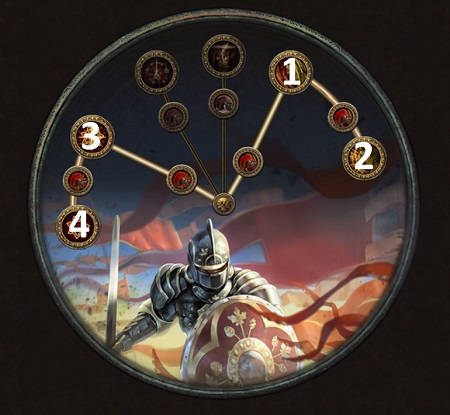 Passive Tree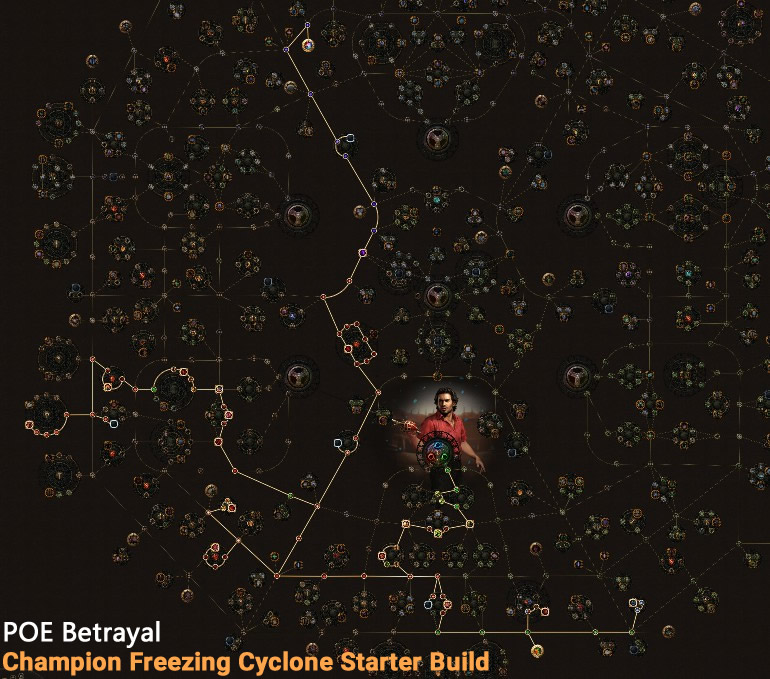 Gems Setup
The links are sorted in descending order of importance. So the last gem in a chain should be the last one you slot in when you upgrade your amount of links.
The colour of the Text implies the colour of the Gem.
Comfortable Cyclone Setup for clearing - 6L
Cyclone + elemental damage + Added Cold Damage + Hypothermia + Increased Area of Effect + (Elemental Prolif or Ice bite)
With this setup arctic armor is not mandatory
High DPS Cyclone for bosses - 6L
Cyclone + elemental damage + Added Cold Damage + Elemental Focus + Hypothermia + Concentrated Effect
But in that case Arctic Armour is mandatory to chill the bosses to proc "The pandemonius effect"
WARNING : you cannot just only switch gems before bosses as it is usually done (here Increased area for Conc Effect and Ele prolif/Ice Bite for Ele focus), ele focus will prevent any ailment and you will loose all the pandemonis effect so you should either switch herald of ice for arctic armor !
Cast When Damage Taken Setup - 3L or 4L
CWDT + Orb of Storm + Frost bomb + Immortal Call
Frost bomb ==> -25 cold res, huge on bosses
Orb of storm ==> huge increased chance to proc Elemental Overload
Immortal Call ==> mostly here to survive a big blue pack of Porcupine mobs, especially if you are using Ele focus only
WarCry Setup - 4L
Abyssal Cry + Enduring Cry + Blood Magic + Ancestral Protector/Warchief

Abyssal Cry ==> really nice for clearing
Enduring Cry ==> Free endu charges (3 = +12% all res and +12% physical reduction), nice for Vulnerabilty/Ele weakness map and bosses
Blood magic ==> almost mandatory, you will spam your warcry every 3.33s and abyssal cry is really costly, and you will not have so much mana left especially when running all the aura
Movement Skill - 3L
Leap Slam + Faster Attack + Blood Magic
Aura Setup 2L + 1S or 5L
Blasphemy + Frosbite and (Herald of Ice or Arctic Armour)
Blasphemy + Frosbite + Herald of Ice + Arctic Armour + Enlighten lvl 3-4
If you are running Elemental Focus you are not doing any ailment with Cyclone, so you need a way to chill and we are using arctic armor for that.
And don't forget :
Bosses have 60% less curse effect on them AND 30% ele res
Shaper has 80% less curse effect on him and 40% ele res
so frostbite efficiency is really reduced but frosbomb still apply the -25% cold debuff
Gear
The build is very cheap and you can have your 6L for 1ex (in delve)
Overview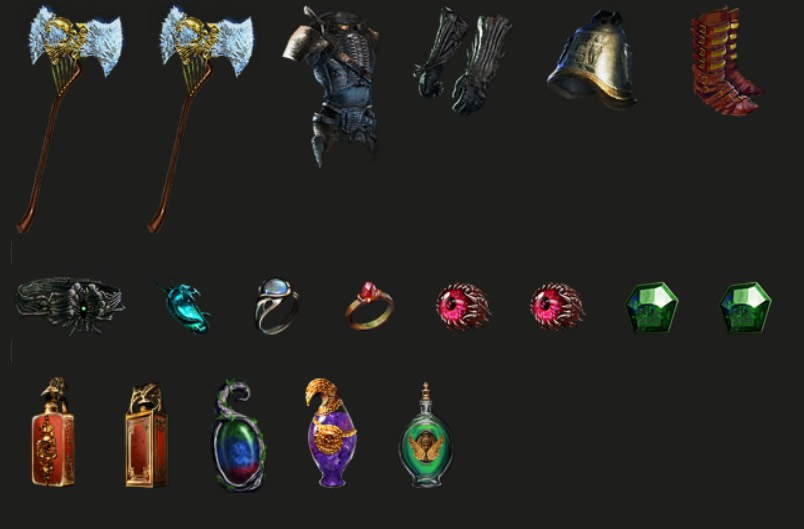 Base gears
Mandatory : Debeon's Dirge + 2 x Cold steel
Highly recommanded : The pandemonius
Recommanded : Deidbellow
Leveling
LEVELING SUMMARY
Leveling is generally a personnal choice, we using 2H sunder even after the nerf
The Rustic sash + Blacksmith + Weapon can easily carry you to blood aqueduct where you can farm lvl 66 to equip Debeo
19 pt Classical duelist start 2H nodes + lif
31 pts Life + instant warcry so you will be ready at lvl 33-34 to equip deidbellow + abyssal cry (at delve league starting the prophecy was about 8c but it dropped quickly)
45pts For the next 10 points we are splitting the route, one way to the life wheel and another way to the maraudeur start, so if you feel you are too squishy you can focus on life nodes, and if you are ok you can take some dps nodes
61pts Dps route to onslaught on kill
71 pts We are now preparing the switch to Debeon, for that we need 2 jewel sockets for cold steel at the duelist and marauder start and we should now take enough dps to rely on mana leech so we get the life and mana leech nodes
Note : if you already got an exalted orb, you can already buy your 6l debeon (they were 1-2ex at days 2-3 and stayed at that price all the league, so except if it becomes more famous it will be the same next league)
95 pts Make your way to Elemental Overload
For the gems you can do
lvl 1

Dual Strike

+

Onslaught

lvl 2

Cleave

+

Onslaught

you can start to lvl

Ruthless

(you can also

Molten Strike

+

Ancestral Call

)
lvl 12

Sunder

+

Onslaught

+

Ruthless

lvl 18

Sunder + Melee Physical Damage + Ruthless

lvl 38

Sunder + Melee Physical Damage + Ruthless + Multistrike
Important : as soon as possible lvl cyclone, elemental damage, hypothermia and added cold and socket it to your debeon when you switch at lvl 66
POB link: https://pastebin.com/EUZtU1yq