POE Betrayal Latest Popular Scion Builds - Ascendant
R4PG Game Store
Date: Dec/04/18 00:51:25
Views: 3196
Scion is aligned with all three core attributes - strength, dexterity and intelligence, which places her in the center of the passive skill tree. Build your most powerful Ascendant league starters by browsing the Poe 3.5 Build we collected for you!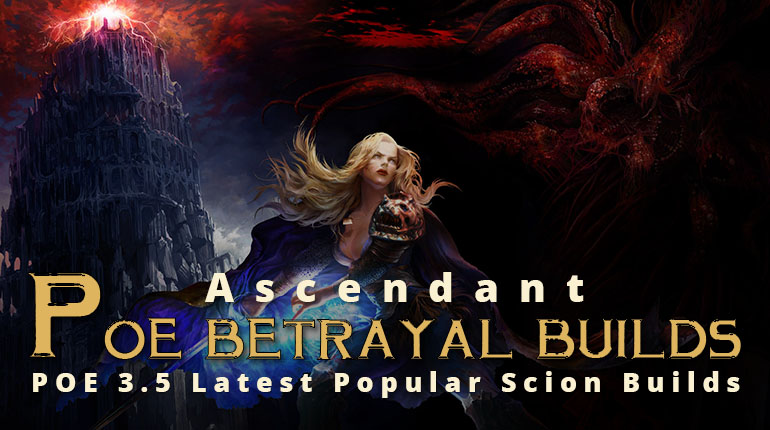 Scion Ascendant Builds
Pros

+ Low budget
+ Hardcore possible.
+ Easy 600 mine
+ Tanky (all contents face-tank)
+ High dps
+ Good mapping speed
+ Instant leech
+ Good life regen
+ Reflect possible
+ Can use 3+ skill. (just change gem)
+ All contents available
+ tier 15-16 leveling available
Gems Setup
There is Two choice. all good. just do what you want.
Important: If you use VDS on body armour with bloodlust.
You have to use totem and reave for bleeding enemy so that your DS could work properly.
IF you dont like this style,
1.use chance to bleed gem instead of bloodlust.
2.Set DS on gloves.
3.Use Blade flurry.
All work well, just up to your style.
Choice 1
reave+double-strike
Reave(body)
increase area effect - melee physical- multistrike - damage on full life-hypothermia
Reave(gloves)
increase area effect - melee physical- multistrike
double-strike(body)
melee physical - damage on full life - multistrike - maim- bloodlust
double-strike(glove)
melee physical - damage on full life - multistrike
Choice 2
reave+bladeflurry
Reave(body)
increase area effect - melee physical- multistrike - damage on full life-hypothermia
Reave(gloves)
increase area effect - melee physical- multistrike
blade flurry(body)
concentrate - melee physical - maim- bloodlust - hypothermia
blade flurry(gloves)
concentrate - melee physical - maim
Whirling blade
(weapon1)
whirling blade - faster attack - blood magic
Ancestral warchief
(weapon2)
ancestral warchief - blind - chance to bleed
Auras
(boots)
(if you have deter watcher)
Enlighten - hatred - determination
(if not)
Enlighten- hatred- herald of purity - herald of ash or arctic armour
Buff
(helmet)
cast when damage taken - ice golem - blood rage - Immortal call
POB link
Cheap version V1- https://pastebin.com/6GKtUFYX
End version V3- https://pastebin.com/TiSkfKRE
Pros

+ a great Leaguestarter if you play with your friends
+ can start with minimal Investment and support all Endgame
+ purges the Atlas from Xenos for the Glory of the Emperor
+ doesn't give a damn about physical Damage
+ tanky
+ righthanded
Gems Setup
Helmet
Discipline
Vitalit
Inc. Duration
Vaal Grace
Chest Armour
Anger
Wrath
Hatred
Purity of Fire
Purity of Lightning
Purity of Ice
Shield
Haste
Determination
Grace
Weapon
Animate Guardian
Minion Life
Stone Golem
4-Link
Ball Lightning
Curse on Hit
Enfeeble
(another Curse if you need)
4-Link
Vigilant Strike
Cast when Damage taken - might be you prefer to selfcast this
Spirit Offering
Phase Run - or Immortal Call
Ringslots
Rejuvenation Totem
Movement Skill / Enduring Cry
POB link: https://pastebin.com/7rPi2m84