POE Betrayal Latest Popular Shadow Builds - Trickster, Assassin, Saboteur
R4PG Game Store
Date: Dec/04/18 00:33:53
Views: 4037
The Shadow is Path of Exile's dexterity/intelligence hybrid class. He makes surgical use of offensive spells while dodging attacks, always outmaneuvering his opponents. Build your most powerful Trickster, Assassin, Saboteur league starters by browsing the Poe 3.5 Build we collected for you!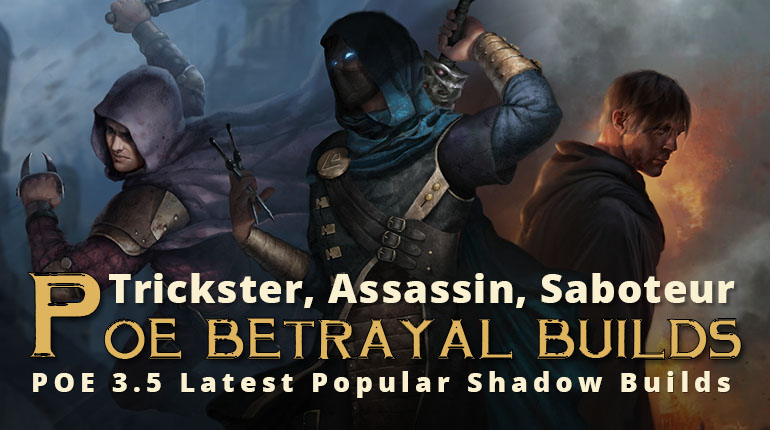 Shadow Assassin Builds
Pros
Looks nice
Mostly cheap
You can tell everyone you did Shaper with <10k tooltip DPS
Can do every map mod, doesn't rely on leech or regen
Literally melts bosses
Tanky, can facetank most of the game with good gear
Vaal Pact nostalgia (very fast life recovery)
Slows down enemies a lot
Gems Setup
6 Link: Molten Strike - Added Chaos Damage - G. Multiple Projectiles - Multistrike - Ancestral Call - Deadly Ailments
The first five gems are pretty much required to have, Deadly Ailments is the best DPS gem we have left.
Level 21 Added Chaos Damage is very desirable because it's the main source of base damage
A 6-link is very important for your damage, as the final link is another 60% bonus.
Recommend getting a Tabula Rasa or 6-linked rare item for a cheap start.
Volkuur's Version

Replace Added Chaos Damage for Immolate because it has higher numbers (you can ignite with critical strikes).

Frost Blades

Frost Blades - Added Chaos Damage - Chain - Multistrike - Ancestrall Call - Damage on Full Life

If you want, you can try out Frost Blades It produces less lag than MS and has better area coverage, but significantly worse single target damage.

The gem colours are the same as Molten Strike, so you can easily swap between both skills. Threshold jewels are not needed.
---
4 Link: Shield Charge - Fortify - Faster Attacks, Arctic Armour
As Movement Skill I highly recommend Shield Charge, as it's more precise than Whirling Blades and costs less mana.
With Fenumus' Weave, these gems have to be in the gloves because every other setup would support Aspect of the Spider, increasing the mana reservation.
Volkuur's Version
Replace Arctic Armour for Anger for some extra fire damage.
---
4 Link: Spell Totem - Wither - Increased Duration - Faster Casting
The totem pretty much doubles our damage and should only be used in bossfights. The Hinder debuff does not stack with Aspect of the Spider, but overwrites it for a stronger effect instead.
---
4 Link: Cast When Damage Taken (level 1) - Immortal Call (level 3) - Increased Duration - Enfeeble (level 5)
Just the usual IC/Curse setup to protect you.
Note that you can use any curse you prefer, but Enfeeble is the most defensive.
---
3 Link: Herald of Agony - Pierce - Minion Damage
Adding support gems to the Agony Crawler will increase you mana reservation to a total of 85%, which is still fine.
If that's too low for you, you can swap Minion Damage for Additional Accuracy (which doesn't have a mana multiplier).
Note that the Crawler starts extremely strong, but falls off the further you progress through maps
A level 21 Crawler with 40 stacks will end up dealing ~120k single target DPS, which makes it sufficient for packs, but relatively weak against bosses. If that's not enough for you, feel free to consider another setup
Level 21 on the Herald is highly recommended, as is 20% quality.
---
3 Link: Cast When Damage Taken - Summon Lightning Golem - Blood Rage
Both of these buffs boost our attack speed. Blood Rage can be sustained with our life regeneration, so it actually helps survivability by increasing our hit rate.
These gems are on CWDT because I'm too lazy to activate them myself (Blood Rage is instant so you could also manually activate it if you want).
POB link
Fenumus' Weave: https://pastebin.com/16WnwTbf
Volkuur's Guidance: https://pastebin.com/JcB46nre
Pros

+Can reach 1 million shaper dps with garbage gear.
+High clear speed with +173% movement speed while mapping, good aoe from Rain of arrow.
+Cheap, around 1 exalt in total, but of course we can gradually build it up.
+1700 Life leech/s. 43% Evasion, 30% Spell Dodge, 5k life, 50% reduced curse effect, overcapped resist for elemental weakness, plenty of evasion, artic armour, pantheons.
+Don't care about map mods.
Gems Setup
Listed in order of importance.
Single target: Barrage-Added Chaos Damage-Greater Multiple Projectiles-Withering Touch-Deadly Ailment-Vicious Projectile
Clear:
Rain of Arrows- Added Chaos Damage- Mirage Archer – Deadly Ailments- Vicious Projectile- (Vile Toxins)
Note: Toxic rain is a viable alternative, but it is a bit slow to apply life gain on hit part, which can be dangerous in some situation.
Actually you don't need a 6 link Rain of Arrow to kill trash mobs, 5 links is fine.
Herald of Agony setup:
HoAg – Minion Damage- Vicious Projectile- Faster Attack
Note: No greater multiple projectile, the mana multiplier is just too much.
Cast on Damage Taken : CoDT – Immortal Call – Enfeeble – Chaos Golem
Utility setup: Phase run – Blink Arrow- Arctic Armour- Whatever you like (Decoy Totem?)
Shadow Saboteur Builds
Pros

Start game and End game Easy
Cheap to kill uber elder (<50c gear)
Fast to kill uber elder (< 2 minute)
Delve more than 1500 depth(
Fast mapping(87%IIQ 280%IIR 1:20 map T15 Belfre or 2:30 T16 Burial Chambers)
Magic find(87%IIQ 280%IIR and easy to mapping)
Any map affix can be completed
High movement speed, Run lab(MF gear 230% UP, Fight gear 250% UP)
Gems Setup
Main 6L Body
Minefield Support + Remote Mine Support + Added Cold Damage Support + Increased Critical Strikes Support + Arc + Lightning Penetration Support
If you have a call of the brotherhood you can swap out added cold damage for added lightning or controlled destruction
If you have a 4L or 5l
4L Setup --> Minefield - Remote Mine - Inc Critical Strikes - Arc
5L Setup --> MineField - Remote Mine - Inc Critical Strikes - Arc - Added Cold
Helm
Lightning Spire Trap + Lightning Penetration Support + Advanced Traps Support + Elemental Focus Support
Movement Skill/How We Proc Arcane Surge (huge damage boost)
Arcane Surge Support + Faster Casting Support + Flame Dash
Quality of Life Gems
Smoke Mine + Detonate Mines + Spell Totem Support + Increased Duration Support
When you put this spell totem down it will detonate your mines instantly if there are enemies around, so you don't have to press detonate yourself.
Smoke mine gives us a huge movement speed bonus.
Aura Gems
Clarity + Wrath
Defensive Cast When Damage Taken Setup
Cast when Damage Taken Support + Immortal Call + Phase Run + Enfeeble
Don't level up any of these gems past 2
POB link: https://pastebin.com/xA38DXvn
Shadow Trickster
Pros

+ Cheap to start, cheap to invest in upgrades, scope for further investment. Start levelling for 3C; all yellow maps on ~75C.
+ Mandatory uniques are very cheap. Flexible about others.
+ Layered defenses
+ Both active and passive recovery mechanics.
+ Inpulsa-style explosions scale damage with trash mob health (and give a satisfying pop-pop sound!).
+ Explosions rapidly delete packs: the safety of upfront damage, with the sustained powered of DoT
+ DoT and poison scaling for bosses/high HP rares.
+ Quill Rain QoL
Gems Setup
Primary clear skill 5L on weapon:
Toxic Rain - Vicious Projectiles - Added Chaos Damage - Void Manipulation - Swift Affliction
Possibilities for 6th gem for 6L
Mirage Archer, Increased AoE, Vile Toxins, Faster Attacks, Poison, Unbound Ailments, Empower
Debuff totem
Ranged Attack Totem - Rain of Arrows - Withering Touch - Faster Attacks - Added Chaos - Lesser Poison
For high-tier bossing, perhaps swap Barrage in for Rain of Arrows (not necessary in yellow maps). Rain of Arrows also works very nicely in delves. Alternatively, have Barrage instead of Toxic Rain on a weapon swap.
Minion clear
Herald of Agony - Minion Damage - Damage on Full Life - Vicious Projectiles
Defense / Utilit
Discipline

CWDT - Immortal Call - Increased Duration - Phase Run
Blink Arrow

Summon Ice Golem

Up to you whether to self-cast Phase Run (nice for Delves), or trigger it with CWDT for a "vanish" effect.
POB link: https://pastebin.com/MNhiVLBe
Pros

+ Good clear
+ 124% increased skill duration for smoke mine and phase run. Smoke mine lasts 13.3 seconds, phase run lasts around 4.18s with no frenzy charges up. The cooldown on phaserun is 4 seconds meaning we have permanent up time with no frenzy charges, With 6 frenzy charges youll get about 15s of uptime, great for delving into darkness.
+ smoke mine + phase rune = 80% increased movement speed at all times.
+ Mirage archer + CA is amazing for indoor maps
+ Has one of the most amazing feelings of
+ progression for a character I've played so far, and im just into maps.
Gems Setup
For clearing
[Caustic Arrow + Swift affliction + Vicious Projectiles + Mirage Archer + Concentrated Effect + Damage on Full Life]
Once you acquire your offhand 6l +3 bow use these
[Caustic Arrow + Swift affliction + Vicious Projectiles + Void manipulation + Empower + Concentrated Effect + Concentrated Effect]
POB link: https://pastebin.com/8ALRQHej