POE Betrayal Trickster Caustic Arrow Starter Build - High Clear Speed, Cheap, Amazing
R4PG Game Store
Date: Dec/03/18 19:01:18
Views: 4171
Caustic Arrow is the main skill used in this build. Caustic Arrow is a bow attack that fires an arrow dealing chaos damage and exploding in a caustic cloud.
By this build you can start playing as from the get-go and really shines with some investment. If you just like run around as stuff dies, it's maybe suitable for you.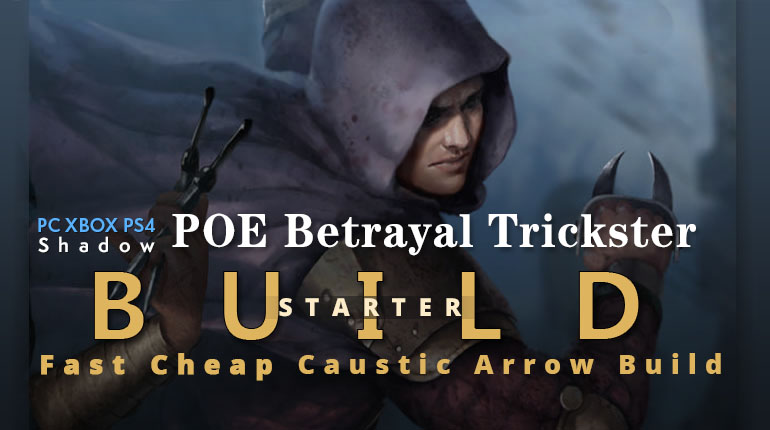 Quick Jump
Pros & Cons
Pros
+ Good clear
+ 124% increased skill duration for smoke mine and phase run. Smoke mine lasts 13.3 seconds, phase run lasts around 4.18s with no frenzy charges up. The cooldown on phaserun is 4 seconds meaning we have permanent up time with no frenzy charges, With 6 frenzy charges youll get about 15s of uptime, great for delving into darkness.
+ smoke mine + phase rune = 80% increased movement speed at all times.
+ Mirage archer + CA is amazing for indoor maps
+ Has one of the most amazing feelings of
+ progression for a character I've played so far, and im just into maps.
Cons
-Kind of squishy until you can get some life on gear.
-During leveling and mapping you're going to find bosses and some rares tanky, especially hexproof mobs before you get some really high end items.
-New Caustic Arrow is kinda ugly so you'll want the mtx
Skill Tree
Ascendancy
Patient Reaper -> Ghost Dance -> Prolonged Pain -> Swift Killer
Bandits
kill all
Pantheons
Sould of the brine king and Soul of Shakari
Passive Tree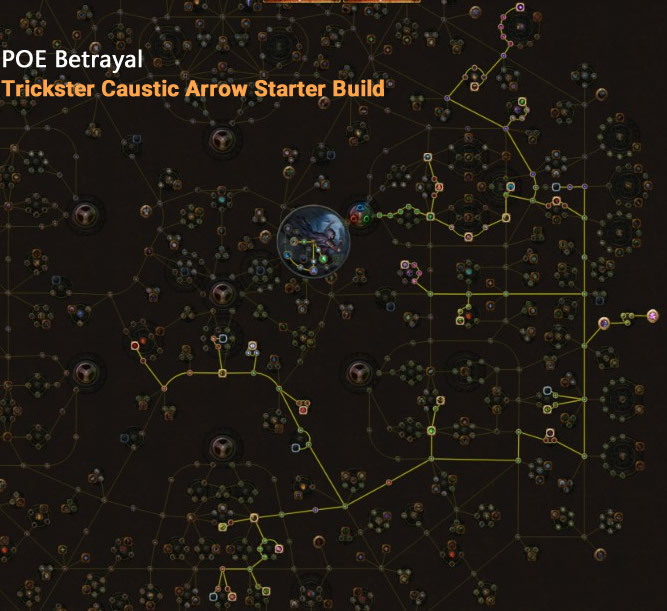 Gems Setup
For clearing
[Caustic Arrow + Swift affliction + Vicious Projectiles + Mirage Archer + Concentrated Effect + Damage on Full Life]
Once you acquire your offhand 6l +3 bow use these
[Caustic Arrow + Swift affliction + Vicious Projectiles + Void manipulation + Empower + Concentrated Effect + Concentrated Effect]
Gear
Required uniques
Quill Rain bow 1alch - 1 chaos
Witchfire Brew Stibnite Flask 15c
Higher-end upgrades
Kaom's heart kaom's if you have a 6l quill rain and want some more life. or a Queen of the forest if you want moar speed.
Cherrubim's Maleficence 50-80% increased chaos damage for a dps increase if you want that instead.
+3 6l bow in offhand for bosses
Empower level 4
Enhance level 4
+2 socket bubonic trail
Two of these or better for Bubonic trail boots
Rigwald's Quills
Dying Sun Ruby Flask
Two chaos % damage and %max life jewels or better
Headhunter
Leveling
Great news is with the CA buff you can start the game with CA now, The skill has pretty decent clear, but single target is going to be lacking earlier in the game before you get major item upgrades.
Leveling uniques
Shameless self plug check my signature for a sunder leveling build that you can use if you want.
Or we can level with CA so you get that nice feel of character progression.
Useful uniques
Quill Rain bow 1alch - 1 chaos Get this ASAP
Ondar's Clasp gloves 1 alch for 30% attack speed from level 5 on 1 alch
Goldrim helmet for resists4c currently as of 9/3/2018
Wanderlust boots for movement speed and cannot be frozen 1c
Passive Trees
Other tips
First things first out of the gate if this is a league starter character for you. Find two 1 hand weapons with 3 green sockets for your offhand and equip two of them, Then fill the sockets with spare caustic arrows. Fret not you can level the gems even if you don't currently have the weapons out. This is for a vaaling them for a chance at a level 21 gem, good damage boost later on.
Rares should focus on resists in the earlier acts more than life. Try to find res as high as possible early on and try to find something with equal or better res but with better life as you play.
Look for a 4l green to carry you to maps. CA > pierce > swift affliction > mirage archer/void manipulation
POB link: https://pastebin.com/8ALRQHej