PS4 POE 3.6 Synthesis - Questions and Answered
R4PG Game Store
Date: Mar/24/19 21:38:15
Views: 3114
The announcement of the PS4 version has caused a huge discussion among players. There is a lot of discussion about poe ps4 and a lot of problems. GGG collected some representative questions and make the appropriate answer.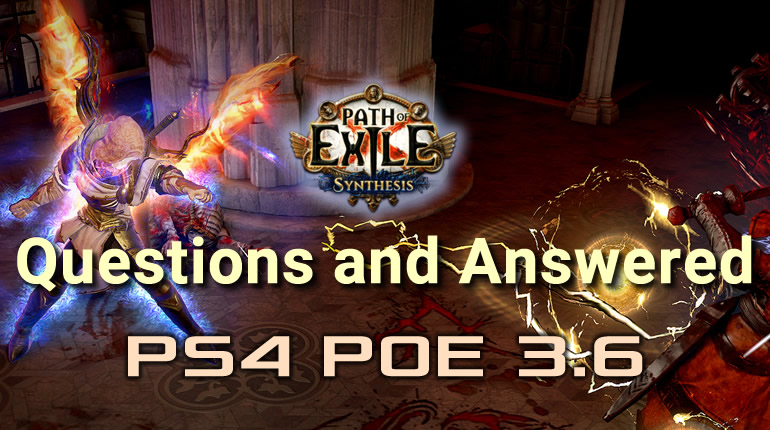 At what time the game will appear in the PS Store?
The servers will go live at 8am Pacific on the 26th of March.
On which zones is the PS4 releasing on the 26th? If there are delays for other regions (EU/Asia/Japan), when is the launch date for those?
America and Europe. We don't have dates for the other regions yet but this is something we're looking into! We'll announce more information as soon as we know it.
Can we preload days before?
It should be available for preload in some regions but we hope to share confirmation of this in the news on the website in the lead-up to launch.
Are we getting the 3.6.2 patch with the launch on the 26th?
Patch 3.6.1 is the version that will launch on the 26th. We are keen to deploy the 3.6.3 update as soon as possible after the launch.
How many GB will the files be on PS4?
The download size is roughly 9GB for launch.
Is there going to be a pre order started pack or something like xbox had when it was announced?
We don't have a pre-order available but we will have the First Blood Starter Pack at launch which offers a good deal on points, a stash tab and a weapon effect to get you on your way. All the other Core Packs and Synthesis Packs will be available as well.
Can you confirm that PS4 will launch with the Neversink loot filter? Are we able to tweak this (changing/adding items)
Yes, it will launch with the Neversink filters. Currently users cannot tweak these, but we have plans for the future that should allow this.
Will you need PS Plus for trading and inviting friends to a group?
No.
Is it easy to invite friends? How many can you play with
You can invite up to five friends at a time to play with you.
What's the resolution for the PS4 Pro version, frame-rate, and is HDR supported
The resolution target is 1080p, 60fps with Dynamic Resolution scaling. HDR isn't supported.
Will non Pro version also get 60fps?
Our FPS target is 60fps in 1080p using a Dynamic Resolution scaling system.
In a recent update for Xbox, you changed how the game loads areas. In previous versions, the game would load some of the assets while you were already in the map, which caused some FPS delays. The game now loads all assets during the loading screen. Is this also the case on PS4?
We have done a lot of work on console performance in the last few weeks, and the improvements that were made to the Xbox version last week (which have resolved the performance concerns from 3.6.0 release) should be in the day-1 version of the PS4 launch. Or patched in within 24 hours if they don't hit on the first day. We are trying very hard to make sure this is the case.
How long will the current league (Synthesis) last, given that it starts with a ~3 week delay (vs PC), and how will this affect the next league (if at all)?
This may shorten this league's duration slightly on PS4, as our preference is to get the schedule in sync with PC as quickly as possible and then never deviate from it in the future.
Will the PS4 version have private leagues?
Yes. This needs website support for the PS4/Xbox realms, which is coming very soon (in the next couple of weeks). So we expect to be able to enable private leagues on console realms pretty soon hopefully.
Will there be single screen co-op?
Unfortunately, no.
Will the PS4 version get support for Race events?
This is our plan, yes. We're not formally running our own complex race seasons at the moment, but we do plan to add the UI support for races to the console platforms when we get time.
Is there any connectivity to accounts for the pc version? Basically can I access my pc account on the PS4?
It won't be possible to connect to your PC account from your PlayStation 4 account.
I'm wondering about the PS4 version and any sort of transfer of purchases. Will I have access to them when I start a game on PS4?
We aren't able to transfer PC purchases across to console unfortunately.
Players with PS+ will have bonus items etc.?
PS+ members will receive a PS+ programme benefit, which will include various cosmetics, but no direct gameplay advantage over others.
How are the average load times loading into a map?
Load times will vary depending on the area. Our average load time internally between hideout and map areas has ranged between 10-20 seconds. Select larger areas such as Shaper's Realm and Hall of Grandmasters can be up to 50 seconds.
Are there any plans for cross-platform play for the game?
It's not possible right now but we are investigating it for the future.
Will PS4 get chat or guilds at release or at any point this league?
PS4 won't launch with guilds or chat. Chat is currently being worked on for both consoles, our hope is to ship this out ASAP in the coming weeks after it's completion and internal testing.
Hi, will there be a platinum trophy, and if so will it be attainable without extreme luck and/or trading (ex. collect a mirror)?
Yes, there's a large-scope trophy pack for PS4, which includes a platinum trophy. There isn't a trophy which requires you to find a mirror or trading.
Will the PS4 version have in-game matchmaking like the PC version?
The console version doesn't have this at the moment. We're working on the in-game chat feature which should help with finding other exiles to adventure through Wraeclast with.
Going forward, what would be the timeline for future league release dates? Can we expect a 1 week delay (vs. PC) similar to Xbox release schedule?
Our goal is as quickly as possible. Ideally if we launch the PC version of a league on the Friday, then we'll be able to hit both console platforms on the Monday afterwards.
R4PG will continue to follow the latest news about PS4 POE, including guides, builds, and videos. You can also buy the cheapest ps4 poe currency and it's safe and reliable.