4 Driving Tips for Forza Motorsport 7
R4PG Game Store
Date: Jan/13/18 03:45:58
Views: 3138
Do not let the gorgeous graphics fool you! Forza Motorsport 7 is one very challenging racing game and it can take a while to get to grips with the game. That is why today we well as promoting our epic hot sale where you can buy Forza Motorsport 7 Credits for very cheap. We have some fantastic driving tips for Forza Motorsport 7 for you.
1. Start With Automatic
When you first start out always choose automatic. Manual will give you a far better control over the car, but starting out, you want to choose automatic as it allows you to get to grips with the way a car handles first. Once you get this down, you can switch to manual and give yourself more control over the car.
2. No Shame In Using Assists
In the previous Forza game, you were rewarded for turning off the driving assist. That is not the case anymore so if you are struggling, make sure it is on, there is no shame in doing so, especially on some of the harder courses.
3. Watch The Weather
More than in any Forza game before, the weather has a direct effect on the way that you can drive. Night time makes it cooler so traction is less, rain makes it slippy, sunny makes it hard to see and in general, you have to take into account the weather before every race! This adds an extra dimension of skill and this is where you need to learn what kind of modifications you need to make to your chosen car.
4. Test Your Car
Each car, even ones that have very similar stats has its own personality so getting out there and doing free run so you can see what a car offers is essential. You do not want to waste your FM7 Credits on a car that sucks and you hate driving! So be sure to make sure you know a car really well before taking on one of the harder races.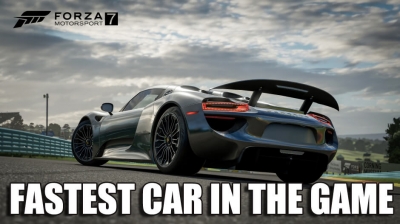 18
Jan
If you have recently got into Forza Motorsport 7, you may have noticed that while this Forza game is a little more new user friendly than past games, it can still be tough. It is a simulation style racer, but it is just so much fun that many new players want to get into the game.