[3.6] Popular PoE Synthesis Marauder Builds - Juggernaut | Berserker | Chieftain
R4PG Game Store
Date: Mar/04/19 01:51:42
Views: 6438
Grinding Gear Games has announced Path of Exile: Synthesis, its newest expansion and Challenge League for its free-to-play action RPG Path of Exile. The Marauder is Path of Exile's pure strength class R4PG lists some PoE Synthesis Marauder Juggernaut, Berserker, Chieftain builds for starter that can help players quickly leveling, funny and interesting. There are also many powerful builds that can endgame. For old players, if you haven't tried these builds before, there is no harm in trying it.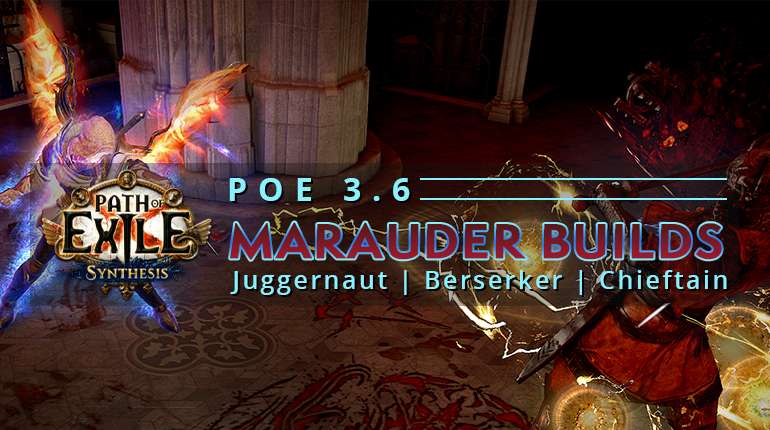 Popular 3.6 Berserker Builds
Pro
+ All Maps and Mods are easypeasy
+ ~ 6k Life
+ 8,7k armor -> 46% phys reduction
+ 75% Chaos Res
+ over 400 Life/s
+ Physical can Shock
+ Immune to Bleed
+ Double Curse
Cons
- Still Totem Playstyle
- No Movement Gem
Path of Building Link links
You only need the "10% all resistances" on the jewels in the Darkness Enthroned if you want go for Elemental Weakness Cap
Beginner Tree lvl 92: https://pastebin.com/L9j8cqaM
Blood Magic Tree lvl 93: https://pastebin.com/XBraKAh2
Popular 3.6 Chieftain Builds
DO YOU LIKE BURNING EVERYTHING AROUND YOU? DO YOU LIKE BEING ABLE TO OUT REGEN ALMOST EVERY TYPE OF DPS? ARE YOU SUPER POOR? DO YOU OCCASIONALLY LIKE TO AFK IN THE MIDDLE OF A MAP? DO YOU WANT MORE THAN 9K LIFE WITHOUT WEARING A KAOM'S HEART?
THEN THIS BUILD IS FOR YOU!
Righteous Fire is a skill that lights you on fire, giving you more spell damage and burning you for a ton of fire damage per second, while also burning everything else around you in an AoE!
Minmaxed Path of Building Pastebin: https://pastebin.com/DhbthpG6
Popular 3.6 Juggernaut Builds
Uber Elder Kills: 185, Uber Elder deaths: 4
Investment in Softcore build
6link: 5 exalted orb
Helmet enchant: 5 exalted orb (Much more expensive now)
Watcher's eye: 18 exalted orb
Dying sun: 1 exalted orb
All the rest of the gears I made using cheap dense fossils before they became expensive and some lucky corruptions.
Total investment: 33 exalted orb
Invest in Hardcore build:
6link: 8 exalted orb
Helmet enchant: 2 exalted orb
Watcher's eye: 2 exalted orb
Dying Sun: 2 exalted orb
Fossils: 2 exalted
total cost: 18 exalted orb with jewelry, jewels and remaining gear.
Path Of Building : https://pastebin.com/PdmdtCV3
This is a 100% Fire based elemental damage melee build that utilize the synergy between the Juggernauts endurance charge oriented ascendancies and the Nebuloch mace's properties. The synergy gives the build both offensive and defensive benefits from endurance charges combined with resistance penetration from gear, skill gems and the passive tree. It also reaps the benefit from the Elemental Overload node by not being based on the Resolute Technique node, but it is not a crit oriented build. All these synergies makes a build that can take a lot of damage from all incoming sources, and are capable of doing all endgame content with some investment.
Consecrated Path was introduced as a new melee skill in 3.4. It creates Consecrated Ground when it hits that provides additional (6%) life regeneration. Added with the other sources of regen and damage mitigations the build benefits from it outweighs the drawback of the 200 fire damage taken pr. endurance charge pr. second from the Nebuloch's (wich also was lowered from 400 in 3.4)
Path Of Building
level 68 Equipping Nebuloch's : https://pastebin.com/Fxp3g5aK
level 90 with the gear posted in the Starter Gear section: https://pastebin.com/kW9qNP2s
level 100 with Xoph's Blood: https://pastebin.com/a44HHPKa