[3.6] Hot PoE Synthesis Duelist Builds - Slayer | Gladiator | Champion
R4PG Game Store
Date: Mar/04/19 01:41:09
Views: 5651
Grinding Gear Games has announced Path of Exile: Synthesis, its newest expansion and Challenge League for its free-to-play action RPG Path of Exile. The Duelist is Path of Exile's strength/dexterity hybrid class. R4PG lists some PoE Synthesis Duelist Slayer, Gladiator, Champion builds for starter that can help players quickly leveling, funny and interesting. There are also many powerful builds that can endgame. For old players, if you haven't tried these builds before, there is no harm in trying it.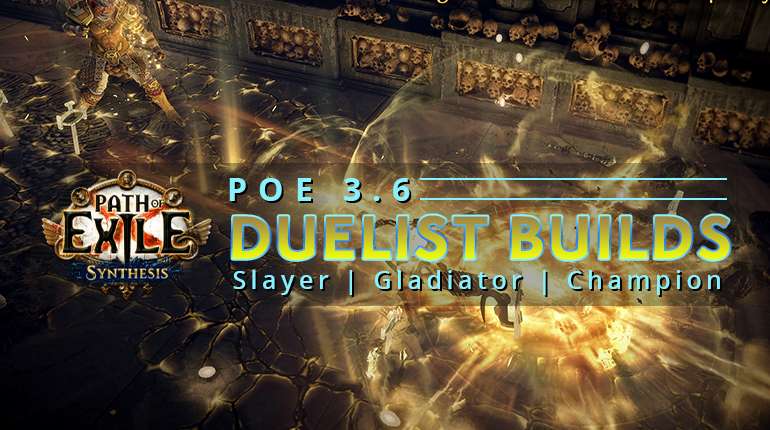 Hot 3.6 Champion Builds
Pros
Instant Leech(!?!)
Insane life pool
Obliterates bosses
Reflect-proof
Eeeeasy playstyle
Hardcore viable
EXCELLENT on a budget
You have FOUR bois
Cons
Claw range is a bit like T-Rex arms
Clear is good, but not top tier
Has a few rare but scary counters
Your friends will be jelly you have instant leech
You have to listen to the Duelist say shit
Path of Building Link links
Mapping Setup: https://pastebin.com/iWbLCC1g
Shaper Setup: https://pastebin.com/mkeetiAT
Pros
Budget to start (red maps on 50c)
Very good league starter
Tanky (6K+ HP with tabula, able to reach 8K+ HP, LGOH, regular leech, life regen, blood rage trick pantheon)
Very good lab farmer (look video section)
No Vaal Pact
Great chance to improve the gear
DOT isn't so dangerous
No gems swap for bosses
Good sustain on long fight when you run out of flasks
Easy Uber Elder (if you know what to do)
Cons
Melee (not the best clear speed, but not the worst)
Can't run ele reflect
Can't run no leech, but only 'cause you need mana leech (if you can get mana gain on hit on jewels, you can run no leech as well)
Need some investment for end game (like all other builds)
Ancestral call on single target need few pratic
Path of Building Link links: https://pastebin.com/2xd2vuqz
Hot 3.6 Gladiator Builds
Pros
+ Fast Attacker
+ Easy to play
+ 52% Block and Spellblock
Cons
- Can't do physical reflect maps
- Have to turn off Hatred for elemental reflect maps
- Can't do no leech maps
Path of Building Link: https://pastebin.com/jAx6xqvU
Pros
+ C

an do all map mods & content

+ You are immortal 83% of the time!
+ Works well on a budget
Cons
- A b

it weak to Degen damage

- Not the fastest mapper
- Getting all the corruptions can be hard/expensive
PoB - Recommended High Budget (lvl 95): https://pastebin.com/shpAcf5T (~1.75m dps, 6.7k Life)
PoB - Low Budget / HC (lvl 90): https://pastebin.com/iWDNaDVx (~390k dps, 7k Life)
PoB - BiS Super High Budget (lvl 100): https://pastebin.com/5xf1pUKZ (~2.4m dps, 8k life)
Hot 3.6 Slayer Builds
Pros
+ Fast
+ Tanky.
+ Above-average DPS.
+ It's a Phys-attack build that can run phys reflect maps.
+ Completely immune to phys reflect enemies or maps.
+ The gear is absolutely cheap as chips to obtain.
+ Levelling is easy, as is the final Kitava kill without the need for Twink quality gear.
+ You can face-tank the entire Uber Lab in under 5 min's while collecting keys and shrines along the main path. You can do this over and over and over again with basically no risk of death.
+ Uber-Lab faming will make you filthy rich in a number of different ways, all through the length of a season. Then back in standard mode, too. This is applicable even in 7-day+ race leagues, too.
Cons
- This is not a Guardian-stomping mega-DPS build. You can clear the Guardians and Shaper deathless with a good understanding of the boss mechanics over the course of 2-4min's, but most casual players will die at least once or twice in those encounters, especially in they have lower level/quality gem's, or attempt to completely face-tank the fights.
- It's not as fast as wand builds because It doesn't have 600% movement speed. It's still very fast none the less though.
- It's not as completely screen-shattering as the 1-shot trash clearing mega-AOE-sized Kinetic Blast builds. It still clears trash very fast none the less though.
- The DPS drop's off noticeably against T10 map bosses and above. It's not like you can't kill them, it's just more like the bosses go from taking 1-10 seconds, to around 30-90 seconds. Bosses with "phases" in their fights are a complete pain in the ass sometimes due to your life-leech effect wearing off. Having said that though, they are still easy to kill deathless, they just take more time.
The base "Wings of Entropy" 2-hand Axe version: https://pastebin.com/d6a7hKyR
The "Sinvicta's Mettle" 2-hand Axe version: https://pastebin.com/3SXuJWBZ
The Doomsower 2-hand Sword version using Vaal Double Strike: https://pastebin.com/BhHzSFv4
Pros
+ Endless Hunger from Slayer tree provide leech effect similar to Atziri's Acuity Gloves
+ You will be able to clear Uber Lab by level 75
+ You are immune to bleed and stun during fights
+ You have 20% culling strike, effectively lowering boss health by 20%
+ Very fast clearing speed due to high AOE radius
+ High life regen making it easy to handle traps in Uber lab
Cons
- Leveling to level 55 could be a chore but from there onward it is a breeze
- Elemental reflect can still be an issue (use ruby flask when you run into elemental reflect and you should be fine)
- Can't do no life no mana leech map
League Starter Using Avatar of Fire - Without Xoph's Blood
Skill Tree - Level 95: https://pastebin.com/S97F24Ha
With Xoph's Blood
Skill Tree - Level 95 Tank (228% Life): https://pastebin.com/23trCd04
Skill Tree - Level 95 Primeval Force (Pure Damage): https://pastebin.com/93JxizSA
Skill Tree - Level 95 Primeval Force (Ignite DOT): https://pastebin.com/WUZDUuDW