POE Synthesis Duelist Sunder Gladiator Build - Easy, Fast, Spellblock
R4PG Game Store
Date: Feb/25/19 19:03:48
Views: 3374
Slams the ground with a Mace, Axe or Staff, creating a wave of broken ground that damages enemies in an area in front of you. Enemies hit by the wave will release a circular shockwave, dealing damage to other enemies around them.
Sunder is a melee attack creating a wave that travels forward and damages enemies in a straight line. Enemies hit by the wave release circular shock waves that further damage nearby enemies. Requires an axe, mace or staff.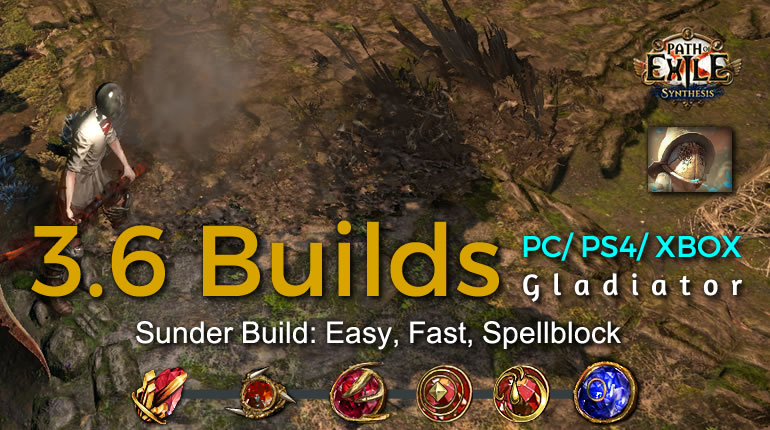 Quick Jump
Pros & Cons
Pros
+ Fast Attacker
+ Easy to play
+ 52% Block and Spellblock
Cons
- Can't do physical reflect maps
- Have to turn off Hatred for elemental reflect maps
- Can't do no leech maps
Build Core
Sunder is a "Melee" Skill with a range, which makes it a lot easier to evade everything that is being thrown at us. We are playing on a dual wield.
So all we do is: 1. Get in range of the enemy, hold right mousebutton and watch stuff die. If anything is thrown at us, just use Leap Slam to evade stuff and keep fortify alive.
Skill Tree
Ascendancy
Blood in the Eyes -> Gracious Violence -> -> Painforged -> Versatile Combatant
Bandits
This quest is given to you by Eramir in the Forest Encampment after you complete Through Sacred Ground or talk with any of the bandit leaders. There are three different bandit leaders. You can either side with one of them (and kill the other two) to get the respective reward or you can kill all of them to get the reward from Erami - from Gamepedia
Kill them all
Pantheons
Big god: Brine King until you got Kaom's Roots, else Solaris for bossing and Lunaris for mapping
Small god: Whatever you like. Gruthkul might be the most interesting one.
Passive Tree (Low Budget)
Build Tree (Step 1): Tree 1
Build Tree (Step 2): Tree 2
Build Tree (Final): Link to Build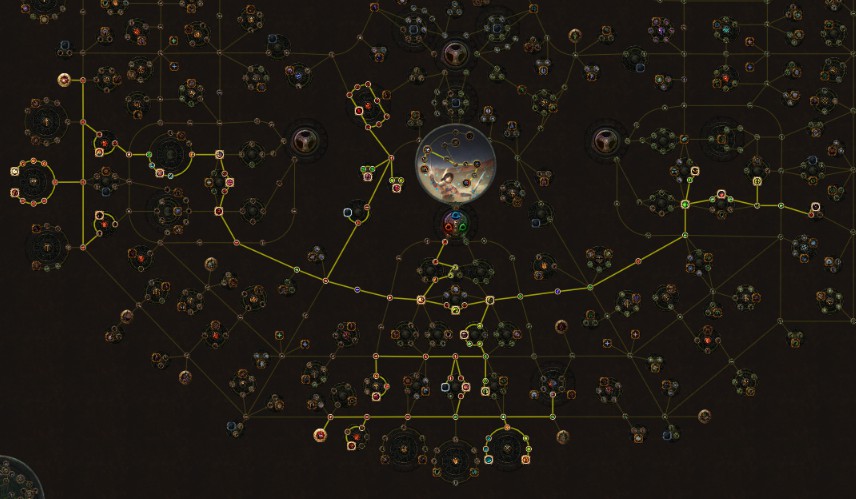 Gems Setup
All in Order of importance
Sunder Setup

+ Melee Physical Damage + Multistrike + Ruthless + Maim + Concentrated Effect
Leap Slam

+ Faster Attacks + Fortify + Blood Magic
Ancestral Warchief

+ Melee Physical Damage + Bloodlust + Concentrated Effect
Utility 1 (In Axe)
Cast when Damage Taken Level 1 + Enfeeble Level 5 + Immortal Call Level 3
Utility 2 in Offhand
Arctic Armor + Hatred + Blood Rage
OPTIONAL
instead of 4 and 5 if you want more damage. This will sacrifice Enfeeble and Arctic armore for more damage and possible less aggro thanks to minions!
Utility 1 (In Axe)
Herald of Purity + Faster Attacks + Culling Strike
Utility 2 in Offhand
Portal + Hatred + Blood Rage
This setup grants us, with my example crap gear, almost 50k more damage and that without the minions in mind.
Those will add even more damage and function as a distraction for enemies.
Crafts
Interesting Weapon Crafts to use in order of possible importance:
%Phys Damage + Impale
Non-Chaos damage as extra Chaos Damage
%Phys Damage + Blind
Attack Speed + Blood Rage
Gear
Really mandatory is nothing. You can fully play the build with 2 rares to get some currency BUT the build is so budget friendly that you will be able to buy your endgame items that bring you to t15 for less than you'd even imagine.
But I suggest the following uniques to make life easier:
Jack, the Axe
103% increased Physical Damage
Adds 14 to 20 Physical Damage
15% increased Attack Speed
2% of Physical Attack Damage Leeched as Life
50% reduced Life Leeched per second
25% chance to cause Bleeding on Hit
Kaom's Roots
Grants Level 14 Haste Skill
Has no Sockets
Cannot be Knocked Back
+166 to maximum Life
Action Speed cannot be modified to below base value
Unwavering Stance
Depending on the starter price, take either Jack, the Axe or Soul Taker as the main weapon.
Soul Taker is preferred because it is stronger then Jack but mostly costs up to 50% more than Jack.
Kaom's Roots: Stun immunity, freeze immunity, can't be slowed under standard movement speed an lots of life. Nothing else needed.
As Leveling Weapons we now take: Bright Beak from Level 20, Flesh-Eater from Level 32
Path of Building Link: https://pastebin.com/jAx6xqvU