POE Synthesis Shadow Caustic Arrow Trickster Build - Safe, Hardcore, Endgame
R4PG Game Store
Date: Feb/25/19 20:53:07
Views: 6847
Fire arrows into the air that rain down around the targeted area, dealing damage to enemies they hit and creating spore pods where they land. Each spore pod deals chaos damage over time to nearby enemies and slows their movement speed. The pods last for a duration before bursting, dealing area damage.
Toxic rain/Quill rain got heavily nerfed, Chaos damage over time got a huge buff Via tree and new rolls. Build is still very good for league start and onwards.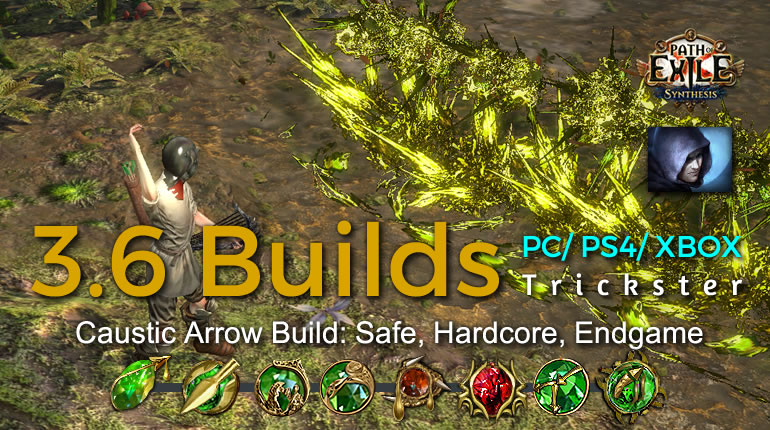 Quick Jump
Pros & Cons
Pros
+ Trickster's Patient reaper makes mapping a complete breeze
+ Smooth leveling process and transition into late game
+ Can preform amazing on a budget
+ Very defensive oriented, good for hardcore (Although not played myself)
+ Highly scalable although can get expensive quick.
+ Every piece of gear is rare no required uniques, Even kaoms can be supplemented for a 6link if you don't enjoy weapon swapping.
+ Can run any combination of Map Mods perfectly fine, no gear swaps needed.
+ Able to run Toxic rain and Caustic arrow, Two fun and new skills
Cons
- Single target becomes quite lackluster towards endgame guardians, although very do-able.
- Again single target sustain is an issue when it comes to harder bosses, relying on flasks/passive regeneration.
- Caustic arrow not being able to target flying enemies. Small gripe but in some cases can be annoying (Haku missions, Arsenal map) although having a weapon swap for toxic rain fixes this.
- Ideally needing a +1 curse amulet to take full advantage of mana reservations.
Skill Tree
Ascendancy
Patient Reaper > Swift Killer > Prolonged Pain > Weave the Arcane
You can use Ghost dance although it's not extremely beneficial, Since weave the arcane is very good for running no regen maps.
Bandits
Kill all for 2 skill points is the best option.
You could potentially go Alira if you wanted the mana regen/resistances but i don't think it's necessary
Pantheons
Pantheons are not extremely important in the build, they give a minor defensive boost and some utility, Prettymuch all of the choices have their advantages.
Major Gods
Soul of the brine King - This is probably the best all-round choice for the build, As with all of the gods make sure to get the upgrades when you can, Chain Stun/Freeze immunity are very powerful.
Soul of Lunaris/Solaris - These two choices are entirely dependant on the content you're running; Solaris favours single-target boss fights and aims to reduce the damage taken, Lunaris favours map clear and dense areas for it's usage. Pick and choose these if you feel they are worth it, Again you want to upgrade these as and when you can.
Minor Gods

Soul of Gruthkul - This is probably what i would recommend for most players upgrading can be quite powerful, further adding to our slows, and a small amount of phys reduction (Which we have very little of since we are Acrobatics)
Soul of Shakari - This is mostly a utility pantheon when you have the upgrade, Mainly for the map mod "Enemies Poison on hit" You can swap into this for every map you run with that mod.
Soul of Ryslatha - This pantheon will probably get the least use but is worth mentioning, most of the Regen outside of killing enemies comes from your life flask, so you might find it useful i longer fights.
Passive Tree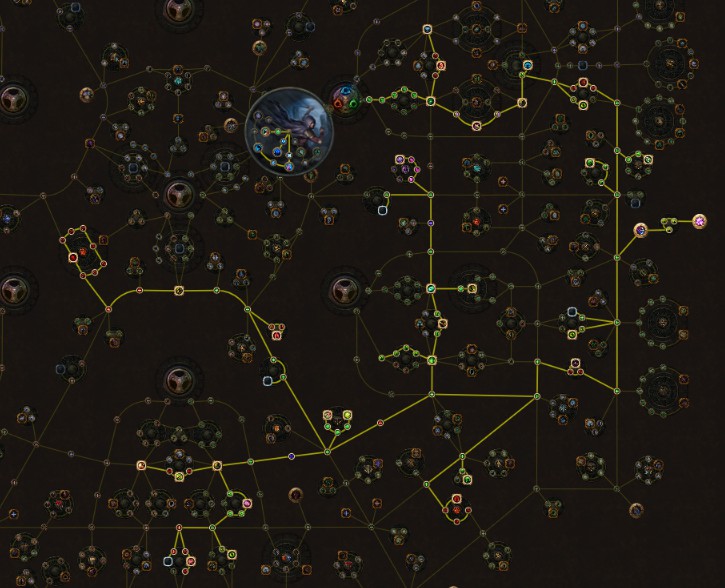 Gems Setup
Move the mouse on the bold poe skill gems to see needed mod
6-link Setup (CA)

Caustic Arrow, Vicious Projectiles Support, Void Manipulation Support, Swift Affliction Support, Damage on Full Life Support, Empower Support, Mirage Archer Support, Slower Projectiles Support,
Listed in order of importance
Concentrated effect ends up being more damage as a 6th/7th link if you want to go full DPS/Bossing, or have two bows with a GGGRB for
bossing.
Concentrated Effect Support
**If you DO NOT have a Vicious projectiles bow use the gem**, It's one of the biggest multipliers. As for the empower, i would suggest using mirage archer or Slower projectiles until you get a level 3/4 empower. A level 3 empower is just under the same damage as slower projectiles if you're looking for pure DOT, but the quality of life for faster projectiles is nicer. If you decide you want to use mirage archer with empower, Swap out Void manipulation for mirage archer as void manipulation gives the least damage.
If you DO have a Vicious projectiles bow, You can drop the link and have mirage archer or slower projectiles in permanently as your 7th link.
6-link setup (TR) in Offhand
Toxic Rain, Decay Support, Mirage Archer Support, Vicious Projectiles Support, Damage on Full Life Support, Swift Affliction Support,
I personally love having the weapon swap for quicker lower level mapping, Having this setup in a quill rain making mirage archer hard carry by attacking so fast and auto-targeting
Blasphemy/Wither totem setup
Blasphemy Support, Enfeeble, Temporal Chains
Make sure the 4-socket you have is 2 2-link setups so you don't end up with a Curse totem, Also for lower levels i suggest using Temporal chains, i swapped in Enfeeble for higher tier content.
Spell Totem Support, Wither
CWDT Immortal call setup
Cast when Damage Taken Support, Increased Duration Support, Immortal Call, Phase Run,
Adjust the level of the CWDT and immortal call to your liking, Mine triggers when taking 1k~ damage. You can also swap vaal grace instead of phase run into the green link for an Increased duration
Blink arrow and utility gems
Blink Arrow, Culling Strike Support, Summon Stone Golem, Grace, Vall Grace
These links you can use whatever you think you need, For delving outposts became very rippy so i added a Vaal grace insead of Faster attacks/Faster proj on blink arrow. Make sure your culling strike is qualitied for this setup or you might find the blink arrow is very slow, Ofcourse use this for boss Culling (The blink arrow clone and Golem can cull)
PoE 3.6 Trickster Gear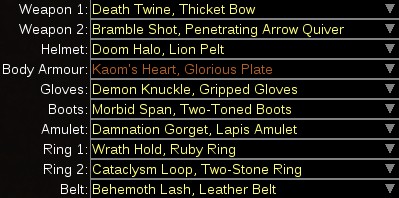 Flask
Move the mouse on the bold poe flask to see needed mod
Seething Divine Life Flask of Staunching, Witchfire Brew, Chemist's Sulphur Flask of Grounding, Chemist's Jade Flask of Warding, Chemist's Quicksilver Flask of Heat, Dying Sun,
Flasks are pretty simple, Get one of each of the following - Bleed, Freeze, Curse and Shock immune.
Ideally you want your bleed on the life flask since you don't need a duration for it and you are likely to take damage from the bleed that needs healing up.
Freeze, curse and shock removal are ideal to be on utility flask due to their long duration, If you have to pick which is the least important to not use, get shock immunity last.
As for dying sun you can swap your sulphur flask for it, It makes the build feel very nice having a cone of 3 projectiles.
POB: https://pastebin.com/rqQ7xcND