[3.6] Top PoE Synthesis Witch Builds - Necromancer | Elementalist | Occultist
R4PG Game Store
Date: Mar/04/19 02:47:58
Views: 11828
Grinding Gear Games has announced Path of Exile: Synthesis, its newest expansion and Challenge League for its free-to-play action RPG Path of Exile. The Witch is Path of Exile's pure intelligence class. R4PG lists some PoE Synthesis Witch Necromancer, Elementalist, Occultist Builds for starter that can help players quickly leveling, funny and interesting. There are also many powerful builds that can endgame. For old players, if you haven't tried these builds before, there is no harm in trying it.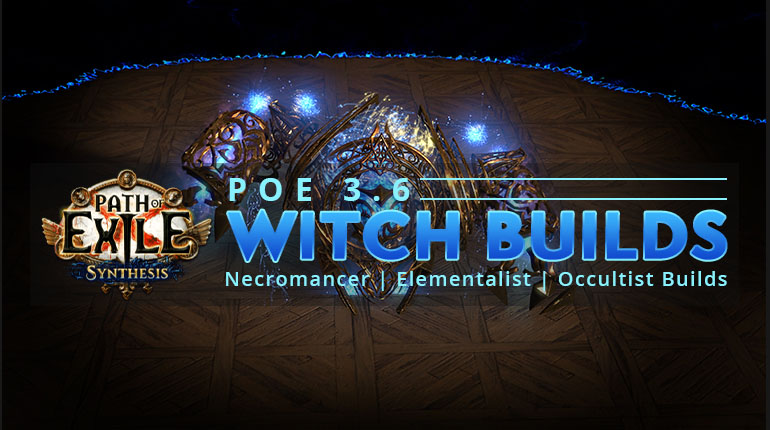 Top 3.6 Elementalist Builds
Pros
+ cheap & fully SSF-capable
+ smooth gameplay & progression
+ capable to do all content & mapmods
+ immune to all kinds of reflected damage
+ fairly safe, lots of damage reductions & ranged playstyle
Cons
- not made for facetanking, physical damage hurts
- good boss damage requires some investment
- Lightning has a huge damage range
Path of Building Link links: https://pastebin.com/6bf8VNUG
Pros
+ Awesome clearspeed
+ Really budget / SSF friendly
+ Smooth gameplay
+ OK DPS
+ No complicated mechanics
Cons
- Not many defensive layers, gotta move to avoid damage
- Gotta cast WO every 7s
- Inpulsa is EXPENSIVE but not mandatory
Path of Building Link links: https://pastebin.com/DDJSCEji
Top 3.6 Necromancer Builds
Pros
+ safe across most content. Bosses offscreening.
+ extremely fast for map clearing
+ around 70% potential Phys Damage Reduction (Basalt, Taste of Hate, etc)
+ decent regen
+ flexible, can stack a lot of block chance if needed
+ great single target damage (around 3 million with Victario)
+ much better than Zombies as you don't need to constantly resummon spectres, also you don't care if Skeletons die. So you effectively are PAIN-FREE.
+ can go Energy Shield and 5-6 spectres too! POGCHAMP!
Cons
- Not super high sustain as we are running Vis Mortis with no life on it (around 7K for Uber Elder).
- Spectres are a pain to resummon if they die
Path of Building Link: https://pastebin.com/YSetdzTf
General Overview

A pure melee minion build using fast moving Skeletons and Zombies. Stay alive the easy way. Beefy life based defenses, with high regen and decent mitigation from all damage sources. Clear fast with 100% increased movement speed, and few button pushes.
Path of Building Link: https://pastebin.com/M5PG4mcw
Top 3.6 Occultist Builds
Pros
+ 180%+ peak increased move speed.
+ Super curses. Mobs barely dent you with the super enfeeble and temporal chains.
+ 7k+ life.
+ Easy to maintain fortify.
+ Strong recovery via LGoH.
+ Agony Crawer does all the work.
+ Can handle EVERY map mod in the game
+ Good clear speed via minion augmented profane bloom explosions.
+ Good league starter. The base gear is dirt cheap and no six links are required.
Cons
- Something not for all players
Path of Building Link
Early mapping: https://pastebin.com/hUzn8gRQ
Endgame: https://pastebin.com/asAUQDB0