Dungeon Fighter Online Unstoppable Glomp
R4PG Game Store
Date: May/04/15 20:09:52
Views: 3826
*This guide was exhaustively created & maintained by SisterSuplex. One of, if not the most OP FGraps I've ever had the pleasure to watch & learn from. I am in no way, shape, or form attempting to take any credit whatsoever for this godlike PvE FGrap guide, which I learned so much from. I simply want our users to have easy access to it, and have a thread for asking/answering questions about builds, personal experiences, strategies, etc. It is also linked to DFOInsider currently, (Which is connected to this forum) so I don't feel bad about putting it up for our users here on DFOC. There seems to be a lot of FGrap love on this forum, and I feel this needs to be here. SisterSuplex has returned to the fold, and everyone who has taken the time to read this guide, or learned anything from it should also take the time to thank her. Now without further ado, here is the original guide, as well as some extras, and small various personal experiences I've added. I will label what is my content. *Hugz*

Unstoppable Glomp! - PvE F Grappler Guide

Table of Contents -

I. Introduction
II. Builds
III. Active Skill Analysis
IV. Passive Skill Analysis
V. Equipment, Avatars, and Emblems
VI. Tips & Tricks

I. Introduction
Hi! I'm SisterSuplex and I've been a grappler ever since DFO's open beta. Here's a video of me running Reshpon, the currently hardest non-Otherverse dungeon in DFO, on King's Road.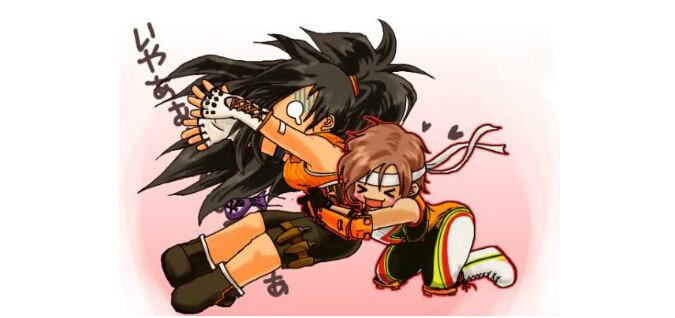 This is a guide that I wrote, for my dear sister Dervishes and Grapplers and Grapplerlings. It is current as of 9/13/2012. If you are none of the above, then presumably you are pondering whether or not you should be a grappler. The short answer is yes, you should! The long answer is yes, you really really really should! The actually helpful answer is "hey check out this list of pros and cons I made".

Pros:
Cheap gear
You are invincible forever
Huge, powerful AoEs
Fantastic for party support
Bosses are your bitch

Cons:
Scales poorly with additional investment
Mediocre damage against single targets
Mediocre burst damage

Okay, so now that everyone reading this guide is maining a female grappler now, let's move on.