MapleStory 2 Leveling Guide - Mini Game | Exploration Goals | Fishing and Music | Dungeons
R4PG Game Store
Date: Oct/13/18 03:50:24
Views: 3882
MapleStory 2 used to be the memory of many players. After a long test, MapleStory 2 finally ushered in the release! To help new players who have never touched the MapleStory series quickly become integrated into the game, here have a guide about how to quickly leveling in game. This guide is not only about how to leveling, but also is a detail introductions about the Mini Game. Exploration Goals, Fishing and Music, etc.

Mini Games
Every half hour or so you will have the option to do mini games (quiz, race, dance, etc). Do these mini-games as much as possible.
Every half hour at xx:05 and xx:35, there is a popup hosted by MC Kay. In this, there are 3 mini games you can choose from at the specific time, 2 normal and 1 pvp. These 3 rotate giving a total of 10 different events you can have. These 10 events are:
Normal : Final Destination, Pattern Solving, Spring Beach, Crazy Raze, Ludeli Maze, Dance Dance, OX Quiz Game
PvP : Red Duel, Barbaros Beach, Red Mines
Mini Game List
Complete Exploration Goals
Full MapleStory 2 Exploration Goals Guide List
https://www.youtube.com/watch?v=NsU1Kb5uoAs&list=PLMErd8EdZK8h4iHpyZlX4iYqb3NkWbDwu
Every area in maple story has Exploration Goals, Doing these will net you a couple hundred thousand exp, and you may even find Treasure Chests along the way.
Fishing and Music
Leveling up these traits will net you tons of experience, and you'll even unlock trophies for using different instruments. (If you have merits i strongly recommend using the auto play feature, that way you can go afk AND it when playing music you can play it for as long as you have the feature and it will not consume your remaining play count).
Fishing Guide
Step 1: Get you Fishing Rod

Before anything else, you need to get your hands on a rod before you can start catching fish in MapleStory 2. You will get one as you progress through the story, or you can head on over to Tria or Evansville and look for the fishing merchant who sells rods. These merchants are usually fishing, with the words Fishing Supplies Dealers hovering above their head.
Once you have your equipment, simply head on over to a pool of water and double click your fishing rod from the Belongings menu. You will then use the keys to determine where you want to throw your bait, then use the spacebar to cast your rod.
When you start angling in MapleStory 2, you might come across a short mini-game. All you need to do here is just tap the spacebar so that the fish icon stays in the highlighted area until the lower meter fills up.
It's worth noting that while you can stick to manual fishing, you can also set up auto fishing instead. This method allows you to leave the game alone while your character does all the work. Do take note, however, that doing this costs merits or coupons.
Step 2: Increase your Fishing Proficiency
As with the other activities in the game, you can increase your fishing proficiency in MapleStory 2
Beginner Anglers
Intermediate Anglers
Advanced Anglers
Professional Anglers
The first three angler proficiencies have up to four levels you will need to achieve before raising your rank.
To raise your proficiency, all you need to do is fish in areas with your matching fishing level. Moreover, make sure that you are catching quality fish with a high grade.
Step3: Where to go Fishing
Before you fishing you should increase your fishing proficiency
Fish in Evansville Poison until Beginner II
Fish in Harang Island Lava until Beginner III
Fish in Revoldic Dam Poison until Beginner IV
Fish in Boulderwhite Mountains Poison until Intermediate I
Fish in Suffering Wasteland Oil until Intermediate II
Now go and catch all the fish you haven't yet
Try to fish at locations that your fishing level matches first, only going to lower level areas when you've caught all level appropriate fish
Here is a table detailing the location of the various types of fish and the level of need:
https://docs.google.com/spreadsheets/d/1zu0qUXnfN5-_IpEjUabkcAP46IYNCEFqosxCRIWgvzY/edit#gid=0

Dungeons
Do them, at least 3 a day.
Dungeons are instanced battles that players can participate in in MapleStory 2. These dungeons can be soloed or done with others in a party and reward gear and/or other items upon successful completion.
Complete Story Mode
Story Mode is your friend! This is the fastest and easiest way to level your character.
If you liked this guide, please continue to pay attention to our website and social media!! Twitter | Facebook
We will keep updating the latest guide and news about the game. We have also been striving to provide the best service for players, and we are committed to becoming a paradise for gamers.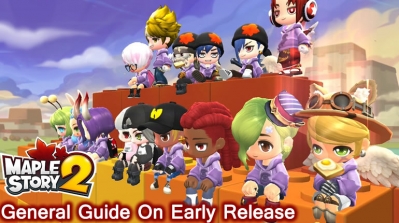 06
Oct
After a long test, we are very happy to see the release of the game. Some new players are in urgent need of some empirical guidance at the beginning of the game. Some of the suggestions below hope to help these players.