[3.6] Hot PoE Synthesis Scion Builds - Ascendant
R4PG Game Store
Date: Mar/04/19 02:41:41
Views: 6629
Grinding Gear Games has announced Path of Exile: Synthesis, its newest expansion and Challenge League for its free-to-play action RPG Path of Exile. The Scion aligned with all three core attributes - strength, dexterity and intelligence. R4PG lists some PoE 3.6 Scion Ascendant powerful fast builds that can endgame. For old players, if you haven't tried these builds before, there is no harm in trying it.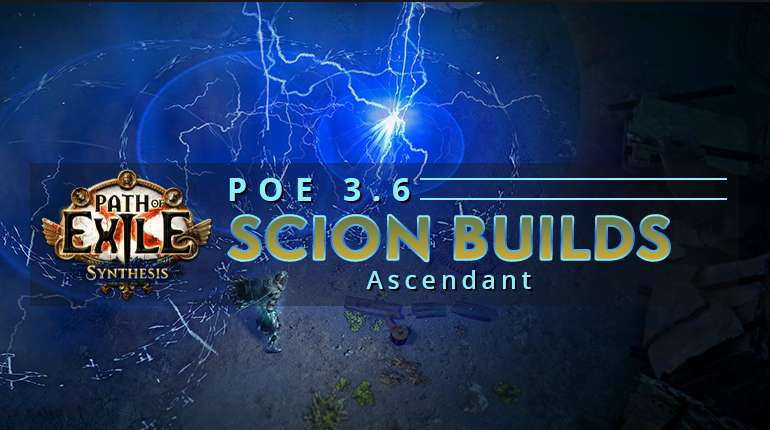 Hot 3.6 Scion Ascendant Builds
Pros
+ Fast mapping
+ Very tanky - Even Rippy T15 and T16 maps feel safe
+ Boss Killer - 1 to 4 million single target shaper dps depending on gear
+ Affordable base of gear can kill shaper (2-3ex)
+ No clunky gear swaps, weapon swaps or gem swaps
Cons
- Lots of backtracking to pick up loot.
- Little control over where flicker strike brings you. Delving with flicker strike is not recommended. Use molten strike to safely clear delves, details below in gem section.
- Playing flicker strike with more than 100ms feels horrible.
- Endgame character optimization gets expensive.
The build performs well in 99% of content on just a few exalts, but to create a truly OP character takes a large currency investment (16-20ex). Optimizing further beyond that gets even more expensive.
- Using flicker strike will violently shake your screen. Some people find this very uncomfortable to look at. Please watch videos before deciding if this build is right for you.
Path of Building Link links:
Level 90, no Uber: https://pastebin.com/xGFdXZyU
Level 93, Uber lab complete: https://pastebin.com/Lp7aqTzT
Level 94, Uber lab complete: https://pastebin.com/X9jir8Cn
Level 100: https://pastebin.com/QLu4w6mi
Pros
All Content Viable.
Tanky.
Resolute Technique.
Unique Items Heavy.
Cons
Not a great league starter.
Have to reroll some map mods.
Can be high budget.
Path of Building Link links: https://pastebin.com/6bf8VNUG
Pros
+ Maps and Delves quickly and safely
+ Decent amount of health (currently ~6500 on my char)
+ Incredible boss DPS and survivability, Completely Uber Elder viable and does NOT require any changes to your setup to do so
+ Stupid amounts of overleech thanks to Soul of Arachnoxia Pantheon, also makes this build great at sustaining Darkness in Delves
+ Great Lab runner
+ Freezes everything other than the top bosses, turning most mobs into target dummies
+ Very satisfying Herald of Ice explosions
+ High movement speed
+ Best of all, absolutely no gem swapping required
Cons
- Cannot do Elemental Reflect or No Leech maps
- Scourge Arrow can get buggy when firing through small doorways and sometimes won't shoot through them
- Not HoGM viable
Path of Building Link links: https://pastebin.com/Lj9pHgFn
Version 2 PoB Pastebin Link: https://pastebin.com/jAY75Yk4