Path of Exile Currency And Crafting Guide
R4PG Game Store
Date: Feb/08/18 01:42:46
Views: 19572
4 categories
Basic And Common Currency Items
Miscellaneous Currency items
Rare Currencies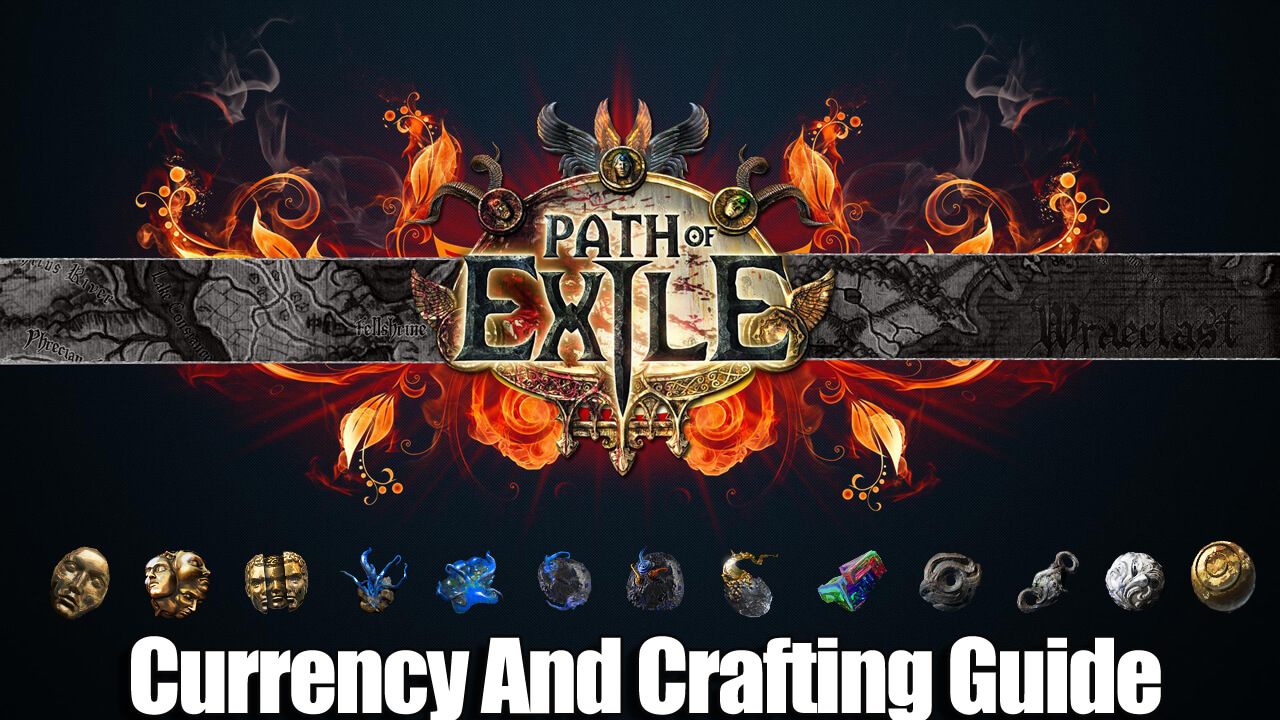 Path Of Exile 3.2 will be released on March 2. If you decide to start your journey from POE 3.2, it is great. So have you learned the Currency And Crafting guide? This guide will help you learn some important crafting and newbie stuff. We are taking a look at currency and crafting items. Path Of Exile has no gold or another monetary system for that matter. Instead, all trading is done through barter, that is trading items for items. These items can include gear, skill gems and the specific category of items known as currency. Each currency item actually does something in the game usually in relation to crafting. The value of each is tied to its rarity and its usefulness.
A barter economy like this means that failures are largely dependent on what either party in the trade wants and how much they want them. As such, I can't give you guys a guide to the value of each currency item. So instead I'm going to go over what most of them do and their relative rarity in the game. Consider this a primer on the currency items and if you are new to Wraeclast then this should serve as a good starting point for you.
So let's start with the most basic and common currency items in the game. The Scrolls Of Wisdom and The Portal Scrolls.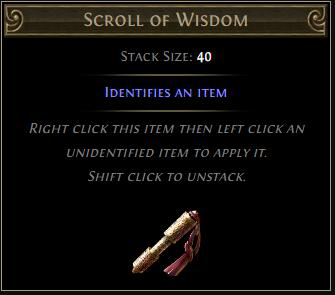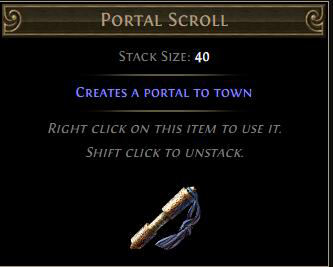 Magic Item Crafting
Portal Scrolls do exactly what they sound like they do, they open portals from anywhere, any other map to bring you back to town. The Scrolls Of Wisdom will identify unidentified items like this. So the first broad category of currency items are our Magic item crafting, anything that turns a white item into a blue item and then anything than tinker with that blue items stats. So the first currency items that we will use as an example is the Orb Of Transmutation. The Orb Of Transmutation will simply turn a white item like a helmet into a blue item.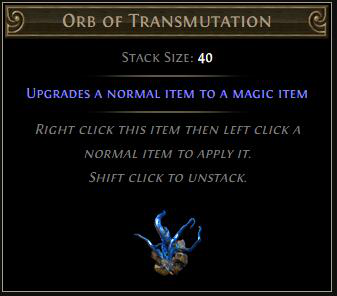 Orb Of Transmutation
Blue items can roll two possible stats. They can roll a prefix and a suffix and for example, we can say that Gilded Helmet is the base item type and Of The Whelping is the suffix their wishes fire resistance. Now the next magic crafting item we are going to use as an example is the Orb Of Alteration this will take an existing magic item and Bri roll it with new magical stats so we could actually turn this Gilded Helmet Of The Whelping into the Animator Gilded Helmet which again only has one stat, now they can possibly roll one or two stats that's just random chance there, but for the sake of this example let's say it is the one plus level of minion gems in the item.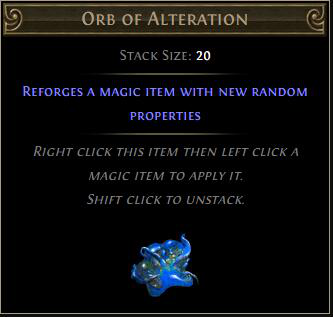 Orb Of Alteration
So now let's say that you really like this stat, this minion gem stat. We can decide to add an additional stat to it so as this has the prefix we can add the suffix to it and that is done through the Orb Of Augmentation so you take the Orb and use it on the helmet and it provides a suffix which lets say is lightning resistance and if for some reason you did not like this role, you can use an Orb Of Alteration again and try again. You can keep using Orb Of Alterations until you get a satisfactory set of magical stats.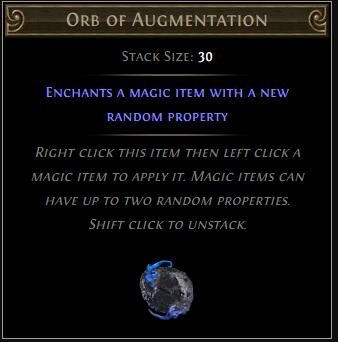 Orb Of Augmentation
Now you will mostly be using these magical crafting items earlier in the game and then you probably won't use them for a while. While you mostly stick to using rares, but then much later in the game they will be commonly used to roll low and mid level maps.
The Item Quality Improvement Currencies
So the next broad category of crafting currencies is the item quality improvement currencies. Now, these range from simple quality improvements on armor from the armor of scrap to weapon quality improvements the blacksmith put stone by giving additional typically additional bonus evasion armor or energy shield and weapons just giving bonus based damage. Another example is the Glassblower's Bauble which improves the quality of flask which improves the amount or the time that flasks heal for. Regenerate your mana or any other effects that flasks give.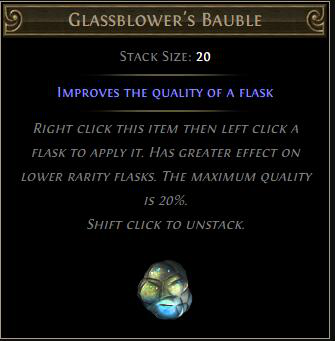 Glassblower's Bauble
Another example is The Cartographer's Chisel which improves the quality of maps which basically improves the amount of stuff that will drop in those maps that you use them on and we also have a particularly rare currency in the game to talk about, The Gem Cutters Prism. The Gem Cutters Prism is considered and endgame trading currency. Simply because it is used to improve the quality of gems and that's a very minimal gain for the expense for the expense of the currency and this is because it's something people only really want to do in the endgame to try and improve certain skills and to really fine tune their build. So the use of these is pretty simple however the effectiveness of these particular currencies depends on the way the item that you are using them on. If you are using it on a white item like The Cutlass it will give 5 percent, the maximum quality is 20 percent so that means it would only take four wet stones to improve a weapon to 20 percent.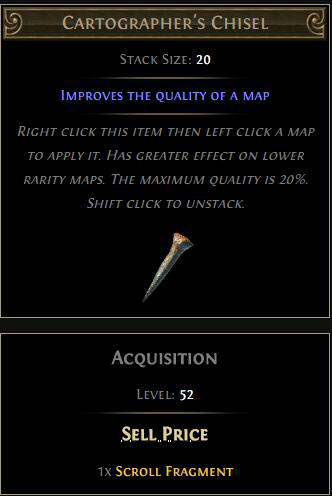 Cartographer's Chisel
Now if you were to turn that white item into a blue item and then use the wet stone. It will only provide 2 percent and then if it's a rare item or a unique item it will only provide 1 percent. So as you can see it is much more effective to use your quality improvement currencies before you roll them into magic or rare.
So on that note let's take a look at rare crafting. Now the first currency in the rare crafting category is actually one that can craft magic or res and it's the Orb Of Chance. The Orb Of Chance basically takes any white item and converts it. It has a random chance of converting it to either a white rare or even a unique item if you have the right base type that can turn into a unique.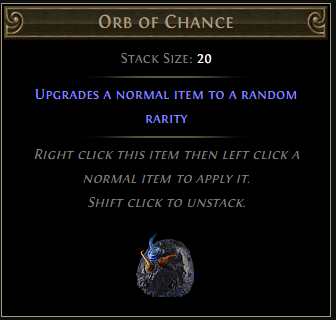 Orb Of Chance
The next tier in this particular category is The Orb Of Alchemy. The Orb Of Alchemy is a nice mid level currency. You will see it used for trading for a lot of mid to low level gear and relatively common skills it's just a nice easy currency that's not too rare, but also not too common and it can upgrade a white item straight into a rare item. So it's also a pretty good way to craft yourself any nicely improved quality weapons or armor that you have that you won't actually want to use.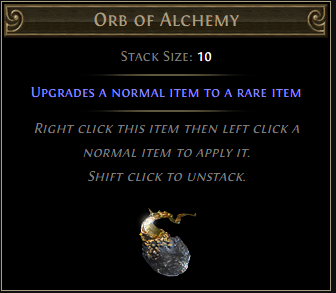 Orb Of Alchemy
Now the next tier is slightly rarer, it is the Chaos Orb. A Chaos Orb will take a rare item and change it into another rare item. Exactly the same way that the Orb Of Alteration works. The next tier is the Regal Orb which upgrades a magic item to a rare item. Now, this might not sound as exciting as upgrading from a white item to a rare item, but it actually has a lot of potential in crafting. A lot of potential applications. Let's use a Blue Helmet as an example and say that it has absolutely perfect magic helmet stats. If we use a Regal Ord to upgrade it to a rare it will maintain those initial stats. Basically, it will convert a magic item into a rare item, giving another stat. Now rares can range from anywhere from 3 to 6 stats that's anything more than a magic item and there are additional currencies to improve that just like we have with the Orb Of Augmentation, that currency is called The Exalted Orb. Each Exalted Orbs used will simply add an extra affix to an already crafted rare. Hopefully, I have not lost you! Of course, you can buy Chaos Orb and Exalted Orb on R4PG. This is one of the fastest ways to get it.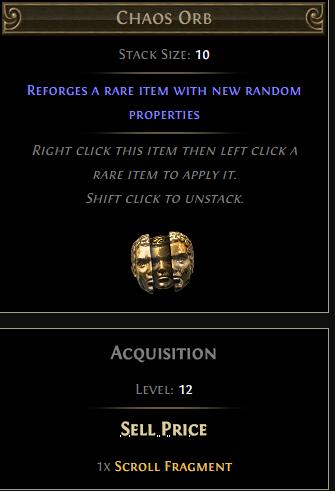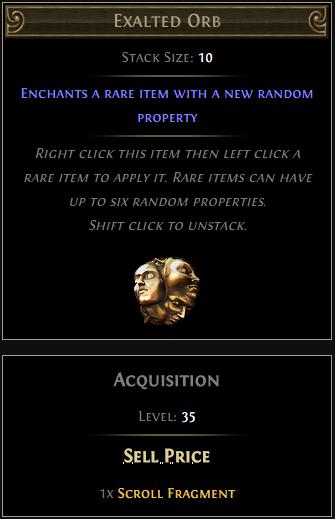 Chaos Orb and Exalted Orb
Socket Crafting
The next broad category is socket crafting. Now, of course, all items have sockets and the sockets on the items are actually very important because the way that you link gems to support gems and how many of those you can put in your gear is actually a huge part of your build. So the first currency for changing the sockets of an item is the Chromatic Orb. Now these are relatively common and all that they do is change the colors of the existing sockets, they don't change the links or the number of sockets. The colors that they change to is completely random. However, the base item type has an inclination towards certain colors. For example, a strength armor piece is much more likely to roll red sockets rather than green sockets.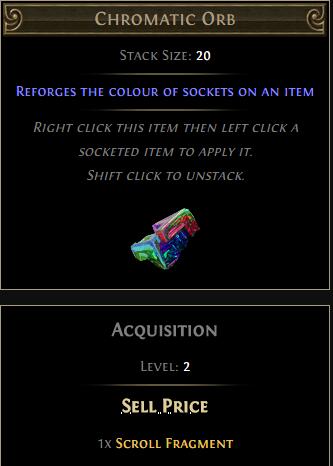 Chromatic Orb
The next socket crafting currency is the Jewelers Orb which we use to change e the number of sockets on an item. So if use the Sun Plate as an example that has two linked sockets, we can upgrade it to three with a Jewelers Orb. We could keep rolling this until you potentially got four, five or six sockets. Now, this is obviously useful if you have a really good rare or unique item that you want to get a certain amount of sockets on and you can sync a lot of these orbs into trying to roll the right amount of sockets.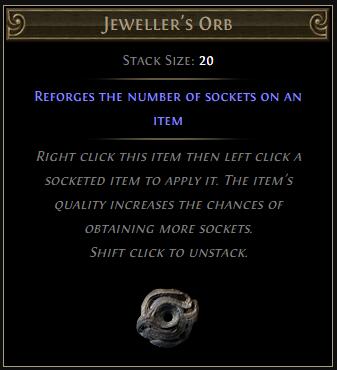 Jewelers Orb
The final socket crafting currency item is the Orb Of Fusing. The Orb Of Fusing will basically reforge the links of those sockets that you already have. So let's say we want to turn a two link and an additional socket into a three link. We can use this to try and get it.
Orb Of Fusing
The next currency that I want to take a look at is the miscellaneous currency items. Things that do not really fit in with these other particular categories. So first up we have the Orb of Scouring. These will remove all properties from an item. Now, these are not used to frequently, but if you want to start from scratch, change a rare item back into a white item then you can use the Orb Of Scouring. Of course, then you can use your Armor Of Scraps and things like that to upgrade the item and then you can roll it again. Now those Orbs of Scouring can be traded through the vendor system into Orb Of Regrets which are basically the games respec system.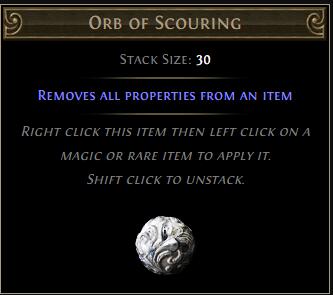 Orb Of Scouring
Orb Of Regrets are pretty rare and they trade fairly well because a lot of people often want to respec certain passive abilities in their builds. So if your Passive Tree has zero respec points. You can use an Orb Of Regret, it will give you a respec point to spend on your character. Learn more builds you can check here. It is pretty simple stuff.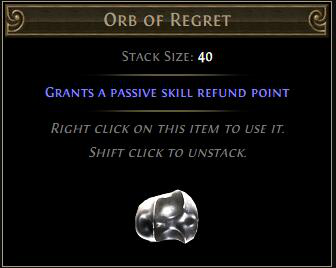 Orb Of Regrets
Finding Other Rare Currencies
Now the other category of currencies that I just want to cover briefly is other rare currencies that you might end finding and not realizing that they are quite rare. So first up we have the Divine Orb which is used when crafting rares to re-randomize the number of affixes on that rare. So if you have a rare with a good set of affixes already, but just poor numbers. You can use that to try and improve the numbers.
Divine Orb
The next one we have is the Blessed Orb which randomizes the implicit values of things like jewelry and belts. So if you had something like a Paula Amulet with a 28 percent increased mana regeneration, Blessed Orbs will reroll that. These are not used all that commonly, but they are a fairly rare currency and the things they are used on are usually sought after when people do want to use them. They are often used on things like uniques, like the Demigods Presence to try and perfect them.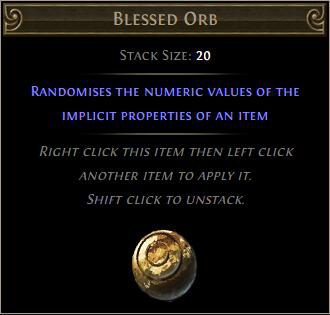 Blessed Orb
The final current item is the Mirror Of Kalandra. This is the rarest item of them all. It will duplicate almost any item in the game including perfect rares and even maps! So as you can imagine, they are fairly sought after by high level players who want to duplicate their perfect gear.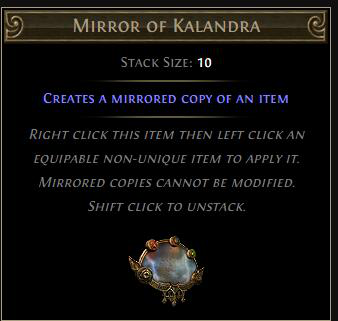 Mirror Of Kalandra
So while I mentioned at the start I can't really give you a value for each currency item. There are ways that you can find approximate trade values as worked out by the community. Now, this is not accurate, but it gives you a good idea of how many Scouring Orbs will trade for Alchemy Orbs and things like that. There are some great community sites that have information on the values. These sites are not the bible of trade values, they just give you a good idea to work off. Trading poe currency in R4PG is your best bet. The actual value of the currency is always going to depend on the person you are trading with.
Hopefully, you guys have found this helpful and now have a good idea of the currencies in Path Of Exile.