Xmas and New Year Event – POE Currency and Warmane Gold Giveaways
R4PG Game Store
Date: Dec/22/17 00:33:12
Views: 3913
Hey All,
How time flies! Christmas and New Year is coming again! We appreciate that you have been with us in the past year and all the new friends are also welcomed. In order to celebrated the happy festivals, we have decide to launch the Giveaways again! We had a similar Giveaways event on October 23!
The events are quite easy. You just need to login and write which game currency you want under this article. For example, you can write "I want poe currency/items/orbs" or "I want warmane gold" or any other game currency. We will pick some of you and give the game currency you for free. We will contact you via email after you win, you will need to tell us your character name and league. Please read the details as below: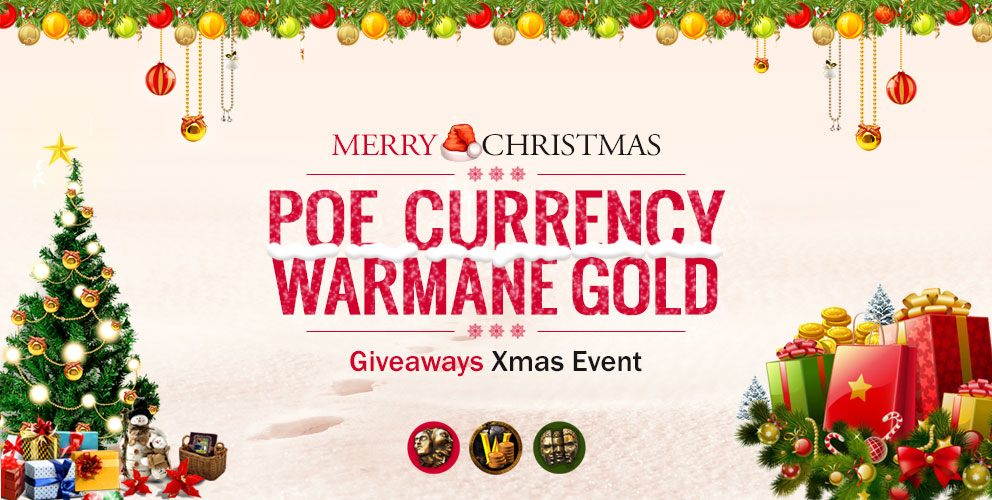 Time:
From today to January 5st, 2018.
Please note the comment after January5st will not be picked.
Prize:
The First Prize (1 Person):
$100 worth Game Currency on our site.
The Second Prize (2 Persons):
$50 worth Game Currency on our site.
The Third Prize ( 10 Persons)
$10 worth Game Currency on our site.
All the winners list will be posted on our site on January 6th and we will cover some sensitive information of your email in order to secure your privacy then.
At the same time, All POE Currency/Items/Orbs or POE Xbox One Items and Warmane gold's price will be lowered during Xmas and New Year Period, so please buy in time because the price will be recovered once the festival is over.
Thank you again for your attention and support, you can like us on facebook and follow our twitter, we will do giveaways usually.
Merry Christmas and Happy New Year in advance! Wish you good luck to win!
www.r4pg.com
Update !!!!!!
The winners are as follows:
The First Prize
1. UnctionJ
The Second Prize
1. Dale Greer
2. nonlbert
The Third Prize
1. Rob POE
2. Robort Ly
3. Peter Nguyen
4. Justin Upchurch
5. Arjan Sudra
6. Hendo blowin on endo
7. Lukas L
PS: We will send an email with the order ID to all winners, please contact our Livechat within 7 days to pick up your prize after you receive our email.