Forza Horizon 4 Guide - Game Tips And Help
R4PG Game Store
Date: Oct/11/18 01:49:52
Views: 2591
The Forza Horizon series brings a new style to racing games, driving your car in the vast open world and enjoying the magnificent views. Once the Forza Horizon 4 was launched, it received a warm approval, and countless players were pleasantly surprised by the super high completion of the game. The new season system brings the charm of the game to the peak of the series. If you've picked up Forza Horizon 4 on Xbox One or PC, or are playing via Game Pass, this is the guide for you.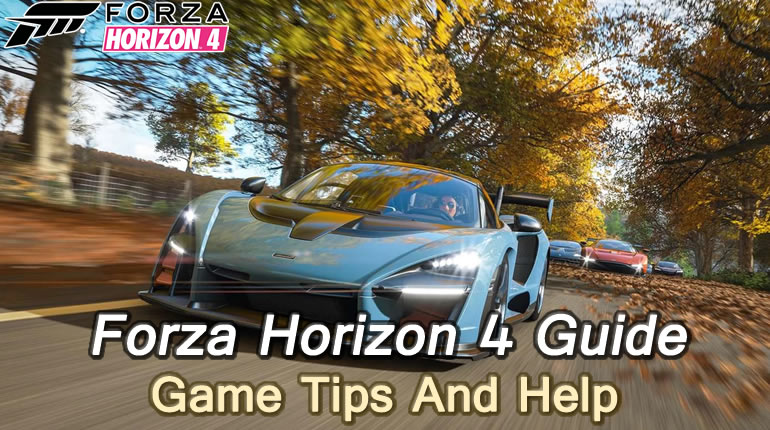 Check out our website's previous guide here!
Be Good At Using Your Drone
In Drone Mode, the player can use a drone to fly around the area and discover secrets, such as new routes, Bucket List Challenges, collectables, PR Stunts, and even Barn Find locations.
When in Drone Mode, the player's vehicle is automatically put in park gear, meaning the vehicle stands still, but the vehicle may be moved around by either being on steep slopes or by being pushed around by other Drivatars that happen to crash into it
It's far easier to scope out Barn Finds with the drone than by aimlessly driving. Once you've parked yourself inside the relevant zone, start flying around until you find the spot. Once you do, the game will replace the vague radius with a purple icon on your map, allowing you to drive there directly once you're back in your car
Drone Mode cannot be accessed while in an event, a Bucket List Challenge, or an Online Adventure.
Complete Forzathon Event
Completing each one of them earns you 10 Forzathon points. There's also the autumn bonus (since it's autumn season in-game) where you can earn bonus points for completing 7 daily challenges and 1 weekly challenge.
For starters, it's only available for those who have already completed all four seasons in the beginning and have joined the Horizon Roster.
It's basically a series of challenges that are available to you both daily and weekly.
How to get Forzathon Point Fast

About Fast Travel
Forza Horizon 4 is as much about exploration as it is racing, so the game discourages you from fast traveling by making you pay 10,000 credits for the privilege (at least when you start). If you try to instantly travel to the Horizon Festival grounds from your world map, the game will charge you. Interestingly, however, if you attempt to go to the Festival through the car management page of the start menu, you'll be transported for free. This is by far the easiest and best way to get back to the southern portion of the map in a pinch, and it becomes much more valuable once you buy a house up north — but more on that later.
About Upgrade
Once in a while I'll tweak something for a specific case like aero for a top speed run
With a manual upgrade you can fix what you need, auto upgrade just throws shit at your car regardless if it needs it or not. Problems with grip? Try better tires. Can't stop fast enough? Bigger brakes, and so on.
Also just an FYI, when you race the other cars will always be a sim
Auction Off What You Don't Need
Although in the game, Forza Horizon 4 provides players with many different brands and models of vehicles. But that doesn't mean that all the vehicles will satisfy the player, maybe you have such a car in your hand. Don't worry, in Forza Horizon 4, players can sell excess vehicles relatively freely, and at the same time, you can use the funds you get from selling vehicles to buy your favorite car.
Add Some Difficulty To Get A Good Income
One of the best things about the Forza franchises has always been their adjustability when it comes to difficulty. You decide precisely how tough you want the game to be, and the game in turn rewards skilled players by adding percentages to your payout for every aid or convenience you turn off.
For example, just by forgoing rewinds, you can earn an extra 15 percent for every victory. Stability and traction control provide another 10 percent each if you don't use them, while opting for manual gears or Simulation physics nets 5 percent bonuses. As you improve, you'll be able to stack these up, and you'll progress much faster through the game as a result.
Barn Finds Locations
If you've only just started playing Forza Horizon 4 and are wondering why you can't get any of the barn finds, be patient: they aren't unlocked until you've been playing the game for a little while. You'll notice that the menu option for Barn Finds is discolored in the early hours of the game, and it'll only open up to you once you've completed 'The Behemoth Showcase' event, in the northern part of the map. This showcase event unlocks once you've entered the autumn/fall season.
After this, Barn Finds aren't just given to you all in one go. Instead, Forza Horizon 4 drip feeds them to you, tasking you to go to a certain location, and find the Barn located nearby.
All Barn locations
Thank you for reading this guide. If you have other things you want to know, please check out our website's previous guides and news, maybe there is something you want. Don't forget that our website also provides players with the cheap Forza Horizon 4 Credits, and trade fast with 1-10 min, ready to serve you!