Path of Exile: Delve Pathfinder Build
R4PG Game Store
Date: Sep/03/18 01:22:12
Views: 3986
Hi, guys, the new league started, how do you feel about delve? I really like this league because delve does bring some cool stuff. But really, sometimes I will also worry about the build, you know, unlike the other league that has existed for a long time. The delve has just been launched, and most players are not familiar with it. It is not easy to find or create a complete and reliable build.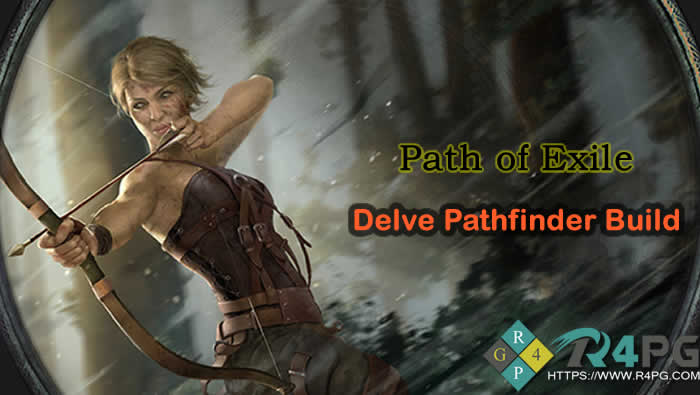 I always wanted to try indigon mjolner as a pathfinder build, delve gave me a chance to try.
This build guide will show both version of it, the league or more budget version MOM life, and the expensive mostly STD version Lowlife.
Please note that this does not apply to the game start, the recommended level is 89, then refer to this build.
Gear
-Weapon
Mjolner

with ITEM QUANTITY SUPPORT
% chance to fortify on hit is the best corruption u can get it free up a link on the cyclone, or u can go for a attack speed implicit corruption.
-Boots
For boots we want Life/Movespeed/Res/Strength/CooldownReduction

with SHIELD CHARGE, LEAP SLAM, RALLYING CRY
Or a good option is deaths door for the nice +1 endurance charge/Res/Strength

-Glove
The best n only pair of glove to use for this build is Shaper touch ( attack speed corruption or +2 to auras can be a good upgrade)

-Helm
We need to use Indigon this is a core item of the build (Reduce mana to auras is a great enchant because thee more mana u have the more indigon stack u can have)

with BLOOD MAGIC SUPPORT
-Rings
We need to use Romiras Banquet for the powercharge generation

For the other ring we want a rare ring with life/res/strength/mana (curse on hit can be a good upgrade)

-Amulet

+1 maximum resistance/+1 curse/Attack speed can be a good option for corruption
-Belt
Since this is a ranger playing mjolner we need a ton's of strength on gear so Heavy belt is the best base you can use. We also want life/strength/res/and cooldown reduction

-Shield
This build use saffel frame for the great defense it give trought Max resistance ( phys dmg taken has cold/lightning/fire is the corruption u should be looking for)

-Body armor

with CYCLONE
Jewels
Jewel stats you should focus on:
Attack speed/maximum life/maximum mana/resistance

stacking attack speed is the key to get the indigon stack faster and reaching good dmg in the shortest time possible.
INTERIA

CRIMSON

JEWEL

INTUITIVE LEAP

VIRIDIAN JEWEL

APOCALYPSE ICHOR

VIRIDIAN

JEWEL

LOATH JOY

VIRIDIAN JEWEL

CHIMERIC ORNAMENT

CRIMSON

JEWEL

MAELSTROM ORNAMENT

CRIMSON

JEWEL

BROOD CREED

VIRIDIAN JEWEL

BRAMBLE SHINE

CRIMSON JEWEL
For the watcher's eye we can use the clarity MOM or the % chance to recover 10% of ur mana pool
Mechanic
-Power charge generation
We are using romira's banquet has the power charge generator of this build. Since it remove all power charge when we are dealing a critical strike we can't the least crit has possible. We can also paire it with inyas boots or the new unique ring from Delve league Precursor's Emblem.

-Elemental Equilibrium
When used correctly this node provide 50% More dmg to the build. Since we are using lightning and fire dmg on the spell we are using we want to avoid any source of fire/lightning dmg to attack, because this would result in a lost of dmg due to the 25% res the ennemies would gain. Unlike other mjolner build with EE this 1 doesn't require any flat cold dmg to attack to proc EE since we are using Taste of hate this is the source for the small cold dmg we need on cyclone to proc EE.

-Life gain
This build use Kingsguard chest with the 100 life gain per endurance charge used. This is what enable the tanky playstyle of the build with is massive life gain.

-Indigon and cyclone
This is the key item that provide all the dmg. Since this is not a poet pen build we always need to be able to attack so we want to keep the mana cost of cyclone between 25-30 mana cost. U can choose to go higher the more mana u have, unless you have 4K+ unreserved i wouldn't go beyond 30 mana cost. To get the indigon stack going we need to do quick cyclone n quickly change direction to get the indigon mechanic started n also this spend mana alot faster then cycloning slowly on top of the target.

-Shaper MOD cooldown reduction
This mod is very important to get to reduce the cooldown on mjolner to enable 5-6 potential cast per second instead of the 4 base of mjolner.
Flask
Those are what enable indigon mechanic n the mana sustain
LInk
-Discharge/arc in Mjolner

DISCHARGE

CONTROLLED DESTURCTION SUPPORT

ARC
-Cyclone
This 5L will put you with a 26 mana cost, this should be the mana cost needed to have a balance between sustain n dmg

LIFE GAIN ON HIT SUPPORT

CONTROLLED DESTURCTION SUPPORT

CYCLONE

FASTER ATTACKS SUPPORT
ADDITIONAL ACCURACY SUPPORT
If you have a 6L you can put any support gem that doesn't put your mana cost higher then 30.
-RF/arcane surge

ARCANE SURGE SUPPORT

RIGHTEOUS FIRE SUPPORT

INCREASED DURATION SUPPORT

MOLTEN SHELL
-Shield charge

SHIELD CHARGE

FASTER ATTACKS SUPPORT
-CWDT immortal call

INCREASED DURATION SUPPORT

IMMORTAL CALL

CAST WHEN DAMAGE TEKEN SUPPORT
-Purities
Since this build is pretty unique heavy we can use 1 purity auras to fix any res issue, link it with enlighten if possible













There is also a description of the Ranger's build on our website, but now we want to change the way. As mentioned earlier, the build described in this introduction is not suitable for beginners. If you have other questions such as how to get poe currency and equipment, please read our previous introduction.
POB
Life MOM version POB:
https://pastebin.com/AysgW9qQ

Lowlife legacy version POB:
https://pastebin.com/a7FNgtWi
Tree
For the tree use the POB n remove either life or jewel socket make sure you have the stats to use mjolner.
Expensive Lowlife version
The legacy Lowlife require 2 expensive item to get the build going

This version use ball lightning vs single target to keep the mana up at all time with legacy Vinktar n also the fact that ball lgihtning can hit 5 time per sec paired with the watcher's eye it make the build rather tanky with the amount of ES gain on hit.

The only slot you can change to want you want is the rare ring n the rare shield to whatever you want depending on your goal.
Hope these builds could help a lot in new PoE 3.4 patch, and you will have some new experience. Whatever you want to get in Path of Exile.