POE 3.4 Witch Occultist Ice Golems Build - High ES Regen (Lowlife)
R4PG Game Store
Date: Sep/06/18 04:23:48
Views: 5983
"Throw off the chains of fear and embrace that which was forbidden"
In the poe3.4, many players will try to experience poe in a different way than before. A variety of builds in poe bring this possibility
Occultists are well-served by builds that rely on & maximize energy shield. Occultists also may serve as a generic way to generate Power Charges in builds which lack other means of doing so.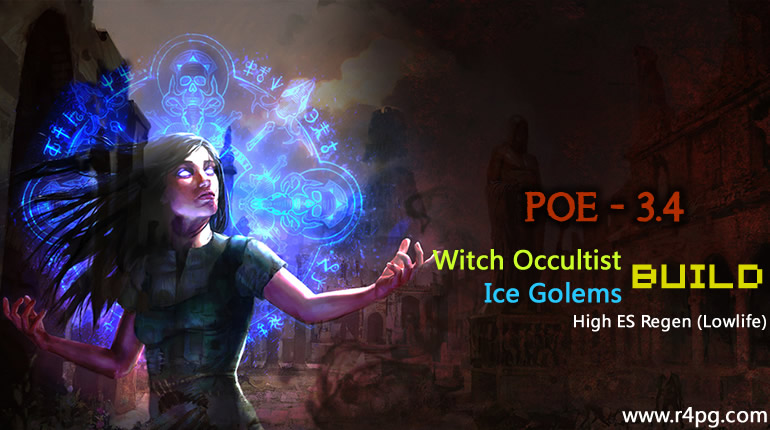 Overview
In this build, you can get good AI pathing and tanking through kk, and projects are not blocked by the wall, also have high clearspeed.
Pros & Cons
+ no screen explosions
+ 83% elemental res / 75% chaos res
+ up to 30% ES regen per second
+ ton of auras and curses
+ stun & freeze immunity
+ AoE damage is percentage based + scaled hard
- low EHP (~5.5k)
- AoE skill have limited radius
- no free sockets
Skill Tree
Ascendancy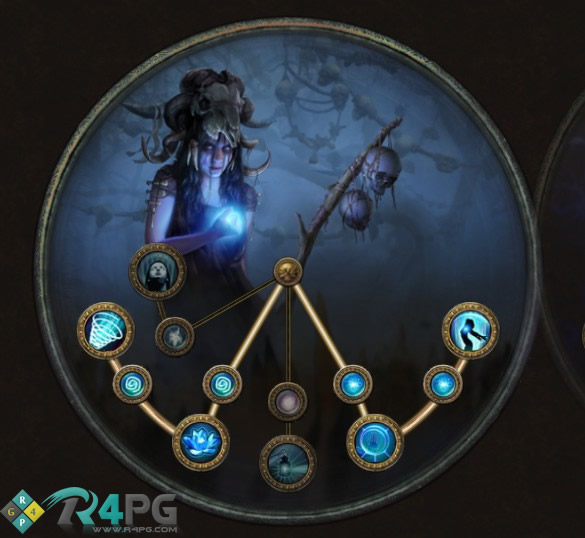 Skill Tree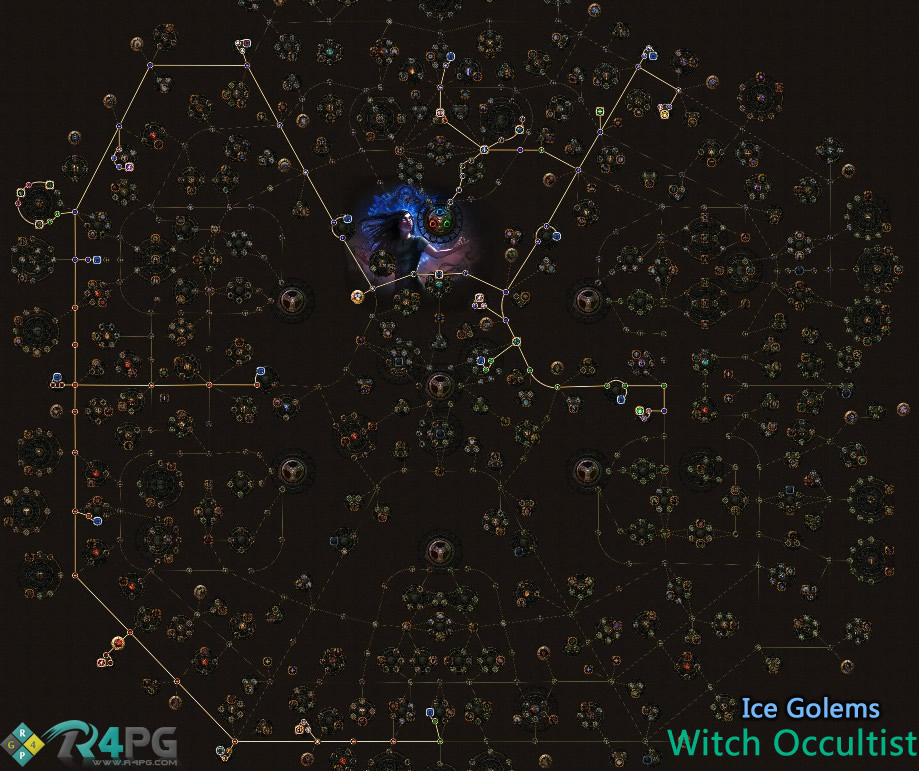 Preview Video
Gear & Gems link
Gems Link
Body Armor: Skin of the Loyal
Colors: G-B-R-R-R-R
Gems: Ice Golem - Minion Damage - Multistrike - Melee Physical Damage - Damage on Full Life - Empower / Added Fire Damage
Weapon: Clayshaper
Colors: R/B-G-B (depending on your choice)
Gems: Vulnerability/Enfeeble - Poacher's Mark - Blasphemy

Shield: Prism Guardian
Colors: R-G-B
Gems: Purity of Fire - Purity of Ice - Purity of Lightning

Helmet: Alpha's Howl
Colors: G-G-B-R
Gems: Haste - Hatred - Generosity - Discipline
Gloves: any (high ES/res)
Colors: R-R-B-B
Gems: Flame Golem - Stone Golem - Chaos Golem - Lightning Golem

Boots: any (high ES/res)
Colors: R-R-B-W
Gems: (IC - CWDT) - Arc - Phase Run (Flame Dash / Shield Charge / Spirit Offering / Flesh Offering / Molten Shell)
Suggestion
Belt, Gloves and Boots are the only source of Energy Shield for this build. Try to stack it as much, as possible. You also need some resistances in total: 40% fire, 40% lightning, 20% cold. You can take +15% chaos resistance to max it out.



Other Gear
Amulet: Primordial Chain
Rings: Ming's Heart x2
Belt: any (high ES/res)
Jewels: Anima Stone, Primordial Might, Primordial Harmony (x11)
R4pg has always been the best service for players, players can buy the required equipment and game currency on our website, and the purchase is very simple and fast, and most importantly, the transaction is absolutely safe and reliable!