Some Popular PoE 3.3 Marauder Berserker/Chieftain Builds
R4PG Game Store
Date: Jun/14/18 20:59:25
Views: 3223
In this article, R4PG will show you some popular PoE 3.3 builds for Marauder Berserker/Chieftain, it's no doubt that Berserker/Chieftain is not as strong as Witch, os there is very few players would choose this two Ascendancy Classes, but this is wrong, these two class is still worth to play in Incursion league. What's more, you can get safe and fast PoE Currency from us now, we have started our Inclusion league currency service for two weeks already.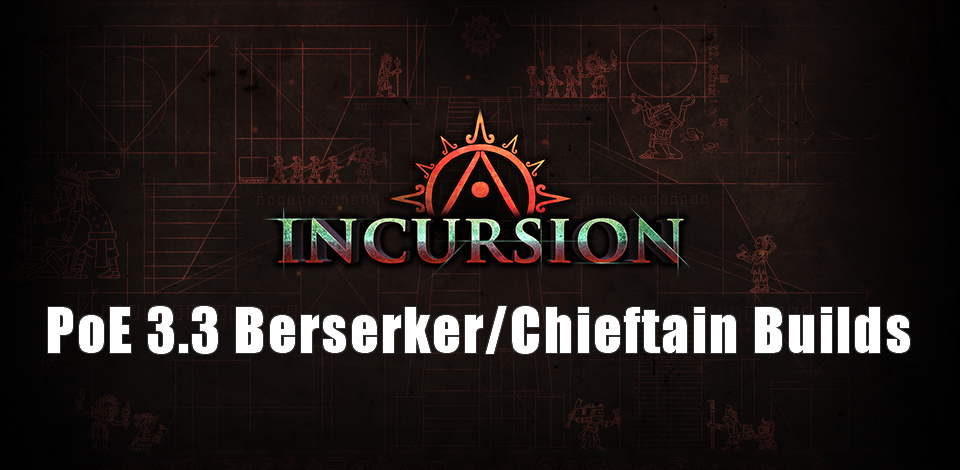 1. [PoE 3.3]FJTHEBEAST| DW Nebuloch Chieftain Molten Strike |90% Dmg Mitigation|4M Shaper DPS| All content
2. [PoE 3.3] Sunder Zerker || FAST - Cheap - Great DPS || SSF Friendly
3. [PoE 3.3] Tanky BLADE VORTEX Chieftain/800k+ Shaper DPS with Budget Gear/1.3M+++ with Endgame Gear
1. [PoE 3.3]FJTHEBEAST| DW Nebuloch Chieftain Molten Strike |90% Dmg Mitigation|4M Shaper DPS| All content
[3.3] Some changes that may be good for this build:
- Try to get an attack speed corruption on your main hand weapon, and a chance to gain Onslaught on a kill on your off hand
- Belts no more get +1 endurance charge. You can get it now on boots. So if you have enough regen without the boot enchant, get Kaom's roots with +1 EC.
- Endurance charge on melee stun support received a buff (+4% more damage per EC instead of 3%). It could be better than Physical projectile attack damage support, so do some testing on PoB and decide which is best for your current setup.
Thanks for visiting my guide. I'm not a local British speaker. Therefore, any advice, remark, question or correction is extremely welcome:). Also, I wish to thank Engineering Eternity when I used certainly one of his build guides like a template to create that one.
I needed to construct a good tanky boss killer and map clearer round the unique one-handed mace Nebuloch to complete all finish game content. The build is fairly affordable when compared with what it's able to when I spent around 250c for those my current gear.
The core item of this build is Nebuloch. It has a nice synergy with endurance charges:
Attack :
Adds 5 to 8 Physical Damage per Endurance Charge
Gain 40% of Physical Attack Damage as Extra Fire Damage
Defence :
+4% to Chaos Resistance per Endurance Charge
1% reduced Elemental Damage taken when Hit per Endurance Charge
+500 to Armour per Endurance Charge
Build Summary
This build is an extremely strong build for almost all game content and excels at killing bosses. It features a quite cheap opening cost, simply requiring the Nebuloch mace and Wildfire jewels, and may scale perfectly using the more gear investments that you simply make, offensively in addition to defensively.
I had 8 Endurance Charges (9 with belt corruption now):
3 base Endurance charges
2 from 2 Kaom's Way rings
3 from the passive skill tree
Using the regen per Endurance charge per seconde in the two rings (0.4% life regen per EC * 2), in the passive skill tree (0.2% existence regen per EC) and in the Chieftain ascendancy (0.5% existence regen per EC), in the boot enchant (2%), the amulet (1.5%, forget about utilizing it) and also the Pantheon system (as much as 2%, refuced damage with time taken), I can compensate the degen used by Nebuloch without needing Wholesomeness of fireside or perhaps a Ruby Flask.
Pros
+ Very strong boss and single target killer
+ Very tanky
+ Low entry cost
+ Good clear speed
+ All content has done
Cons
- Can't-do maps with no leech and no regen combined.
118 points (complete tree) : https://tinyurl.com/y7e9f5s5
Find the full tree: https://www.pathofexile.com/forum/view-thread/2110129
2. [PoE 3.3] Sunder Zerker || FAST - Cheap - Great DPS || SSF Friendly
It seems like the angle on Berserkers following the 3.3 changes happen to be fairly lower. The ascendancy may not enable super unique play styles, however, if you simply are searching to have a very SOLID & FUN melee experience of POE give Zerker a go. The play style is active and needs control over flasks (piano), and talents.
Berserker being an ascendancy essentially exchanges defence for increases in an offence. So we have to complete our character in different ways.
My intention with this build was an SSF viable, Safe and Fast mapper and so I could push ladder occasional athlete style.
Dying at greater levels sets you back considerably, and so I designed the type to possess a nice balance. A range of movement skills enables you to definitely suit the playstyle to whatever kind of maps you want, whether indoor or outside. The build can also be Very flexible with gear and you sense each upgrade. (Something Personally, I miss with many different the overpowered builds)
With higher gear, I am sure the build can kill guardians and shaper but sunder is much more of the clearing skill, therefore, it will feel below par.
PLAYSTYLE
Pop bloodstream rage (once is all that's necessary), piano your flasks, Leap Slam right into a pack and go apeshit.
Make use of your warcry to heal yourself and up endurance charges if needed. The warcry setup also provides a nice healing effect for several seconds. Whenever you encounter an especially tanky rare or harmful situation make use of your Vaal Elegance and throw lower a totem. The Vaal Elegance lasts ten seconds so it features a high uptime generally.
Defence
While Koam's roots are great I have one big pet peeve with them.
Unwavering Stance
Blind is one of the most broken mechanics in the game.
The combination of:
Blind on Hit
Vaal Grace Setup
Flasks
These really are the core of the build. Everything else is flexible.
Mobs will have a pretty tough time hitting us in the first place.
If they do we have 10k armour, 27% Flat Phy's mitigation, Fortify and Arctic Armour to help cut dmg from our large health pool
Pros:
+ Easy Damage Scaling
+ FAST
+ Feels Smooth to Play
+ SSF Friendly
+ Cheap to Gear
+ No League Specific Uniques Required!
Cons:
- Unable to Run Reflect Maps & No Regen mods
The end tree: https://goo.gl/u2x11d
Check full build: https://www.pathofexile.com/forum/view-thread/2149719
3. [PoE 3.3] Tanky BLADE VORTEX Chieftain/800k+ Shaper DPS with Budget Gear/1.3M+++ with Endgame Gear
3.3 Update:
BV now have 10 blades, it allows us to drop Spell Echo and use dmg gem instead, I think Inc Crit DMG is good.
Once I was searching 3.3 ascendancy changes for whatever reason I immediately loved the Chieftain. His ascendancy talent named "Ngamahu, Flame's Advance" (70% extra fire dmg every 10s looks very awesome) bothered me every single day. And So I wanted for doing things in certain build although not with Molten Strike or Tectonic slam coz I had been tired from auto attackers. And So I made the decision to produce that one. Also, I loved BV but never attempted it, so it's grounds to.
Items:
-Carcass Jack or Belly of the Beast
-Divinarius
-Wise Oak
-Rumi's Concoction
-In off hand statstick (while u have no currency use Divinarius in both weapon slots) - scepter with %inc fire damage and %of Phys dmg as extra fire.
-Diamond and Sulphur flasks.
-Helmet, gloves, boots, belt with life and resists. Try to get a cap of resists with this ones, so u will be able to get accessories with good DPS nodes cheaply.
-Accessories with cast speed, life, crit multi, spell dmg, fire dmg, dexterity (u need 155 and 159 for lvl 21)
Leveling section:
When u will reach 38 lvl, get 4L item with R-R-B-B sockets and use Scorching Ray + Cast While Channeling + Firestorm + Fire Penetration.
When you will get 5L staff or armour u can use Blade Vortex (on 4L SR seems better). I recommend taking "Potency of Will" before. I used BV + Added Fire + Elemental Focus + Fire Penetration + Spell Echo coz i got 1G-2R-2B sockets armour.
Tree lvl 93: www.poeurl.com/bThC
Read the full build here: https://www.pathofexile.com/forum/view-thread/2094242
There are three Marauder Berserker/Chieftain builds for PoE 3.3, if you have any suggestions about these builds, you can leave them below on the comment section. If you are new players to Path of Exile, you maybe need these Top 10 starter builds, moreover, you purchase Path of Exile currency you need in Incursion league from wwww.r4pg.com, that's all, have a nice day.